Why Aren't Farmworkers Paid Normal Overtime?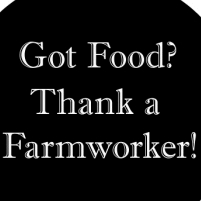 (graphic-www.farmworkerawareness.org)
Unlike other hourly employees in California, farmworkers have been unable to collect overtime pay for more than eight hours of work since World War II. But Democrats in the state legislature have approved legislation that would undo the overtime restriction for laborers who pick fruits and vegetables. The only question now is whether Republican Governor Arnold Schwarzenegger will sign the change into law.
The state Assembly approved the legislation 46-26, with supporters insisting it's a matter of economic fairness to give farmworkers the same overtime rights as other non-salaried workers. Agribusiness opposes the change, arguing it would impose a financial burden on farmers throughout the state.
Schwarzenegger has had a mixed record when it comes to bills affecting farmworkers. On the one hand he's approved legislation reducing field workers' exposure to pesticides and protecting them against heatstroke. But he's also vetoed efforts to make it easier for farmworkers to unionize.
-Noel Brinkerhoff