Why are so many Babies Dying in Vernal, Utah?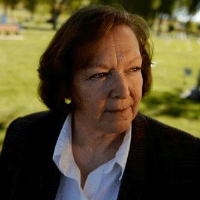 Donna Young (photo: RJ Sangosti, Denver Post/Getty Images)
A small Utah town located near a major oil and gas drilling operation has witnessed a recent spike in infant deaths.
Neonatal mortality rates in Vernal, population 10,000, went up six-fold from 2010 to 2013, according to statistics compiled by local resident and midwife Donna Young. Young's troubling conclusion seemed to be backed up by a government health report on baby deaths in a tri-county area that includes Vernal.
Infant mortality and birth defect data from Daggett, Duchesne and Uintah counties revealed the region experienced 13 infant deaths and 13 stillbirths in 2012 and 2013, up from 11 infant deaths and nine stillbirths in 2010 and 2011, according to The Salt Lake Tribune.
Epidemiologist Sam LeFevre told the Tri-County Board of Health that the increase in "adverse birth outcomes" was notable, even though it's not statistically significant. "From a local perspective, these findings should be concerning, particularly if these patterns persist," LeFevre wrote in the report.
"I think it is a good start. But I also believe that they're holding back a lot," Young said. "I believe they know a lot more than what they're divulging."
She says the state government cooked the study by including Daggett and Duchesne counties, which are near Vernal but don't have the concentration of infant deaths that Vernal does. "The [state's] findings were very, very vague. They were also very diluted. The problem area was in Vernal. They would not do a study just with Vernal. They diluted it down by three counties. They still found a problem, but they're refusing to look at where it's really a problem," Young told Newsweek.
LeFevre says the state's not planning any more studies of infant deaths in Vernal.
Vernal sits in a region that produces 80% of the state's oil and gas, thanks in part to new oil and natural gas drilling technologies—fracking—that have made it more profitable to drill.
-Noel Brinkerhoff, Steve Straehley
To Learn More:
Midwife Was Right: Uinta Basin Sees Spike in Infant Deaths (by Annie Knox and Kristen Moulton, Salt Lake Tribune)
Utah Confirms Spike in Infant Deaths in Oil and Gas Boomtown After Midwife Sounds Alarm (by Zoe Schlanger, Newsweek)
Adverse Birth Outcomes Statistical Review Investigating the TriCounty Health Department Study Area (Daggett, Duchesne and Uintah Counties), Utah, 1991 - 2013 (Utah Department of Health) (pdf)
Dead Babies Near Oil Drilling Sites Raise Questions for Researchers (by Nancy Lofholm, Denver Post)
Fracking Companies Use "Trade Secret" Loophole to Avoid Chemical Disclosures (by Noel Brinkerhoff and David Wallechinsky, AllGov)