Who's Inside Midwest Mystery Prisons?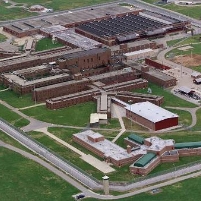 Federal Penitentiary, Terre Haute
Federal prison officials during the Bush administration began a secretive program to segregate inmates, most of whom are Muslims, and limit their ability to communicate with the outside world. Known as Communications Management Units (CMUs), these "prisons within a prison" were set up at two Midwestern federal penitentiaries, one in Terre Haute, IN, and the other in Marion, IL.
Based on testimony from a former CMU inmate, these special prisons may house up to 40 prisoners—of whom 70% are adherents of Islam. None of the CMU inmates are categorized as a high-security threat, and yet they cannot send or receive written communications without it first being reviewed by prison officials.
Some critics of CMUs contend there is growing evidence the federal government created the secret prisons to extract information from inmates for the war on terrorism.
The American Civil Liberties Union has filed lawsuits challenging the legality of the CMUs, claiming they violate federal laws requiring public scrutiny and constitutional protections guaranteeing the right of religious practice to conduct Islamic group prayer.
-Noel Brinkerhoff