What Chemicals are on Cargo Trains in Minnesota? Don't Ask
Saturday, September 27, 2014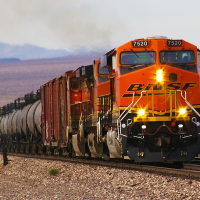 (photo: Wikipedia)
Freight trains running through Minnesota often carry hazardous chemicals that aren't on the train's cargo list, a violation of federal safety rules that can leave first responders in the dark about the dangers an accident might pose.
A Minnesota Public Radio (MPR) investigation found there were at least 18 incidents over three years in which BNSF Railway sent freight trains from Minneapolis with dangerous chemicals that weren't on the train's manifest. In some instances, the trains were hauling substances such as anhydrous ammonia, a toxic corrosive gas, while traveling through populated areas.
Without full knowledge of what's onboard a train, fire crews can walk into an already risky situation and encounter fatal results. "You're sending fire and rescue in there, and they have no idea what they're getting in to," a BNSF employee who spoke on condition of anonymity said to MPR. "And they could literally walk into an extremely deadly situation."
The Federal Railroad Administration (FRA), which oversees railroads, found after reviewing all Minnesota train manifests over a three-year period that about 20% of the shipping logs contained inaccurate information regarding hazardous materials.
Nationwide, 14% of trains were not in compliance with manifest rules, according to a 2006 FRA audit. Errors in the manifest happen either when the train's assembled or when cars are picked up or dropped off en route. "By far, the presence of undocumented shipments of hazardous materials poses the greatest danger during transportation," the agency concluded then.
Train crews are sometimes reluctant to report problems with a manifest because of concerns of retaliation by the railroad. "If you're a safety advocate, you get a target on your back," one crew member told MPR.
-Noel Brinkerhoff, Steve Straehley
To Learn More:
Mystery Trains: Crews, Communities in the Dark on Chemical Cargo (by Dan Gunderson, MPR News)
State Confirms Huge Jump in Dangerous Oil-by-Rail Shipments but Details Are a Trade Secret (by Ken Broder, AllGov California)