West Point Bans Pillow Fights after at least 30 Injured
Sunday, December 06, 2015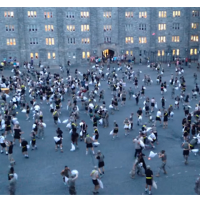 (photo: YouTube)
A pre-school-year pillow fight among plebes, or freshmen, at the United States Military Academy that resulted in about 30 injuries will be the last, the superintendent of West Point has decided.
The August 20 fight, in which plebes apparently put hard objects in the pillow cases to inflict more injuries, came at the end of a summer of basic training during which the students were not supposed to talk to one another. The pillow fights, which have occurred for more than 100 years, are supposed to be a spirit-building exercise.
This year's edition, however, resulted in two dozen concussions, dislocated shoulders, a broken leg, broken nose, fractured cheek, people found unconscious, and other injuries. "4 concussions, 1 broken leg, 2 broken arms, 1 dislocated shoulder, and several broken ribs. That's one hell of a pillow fight. #USMA19," one plebe posted on Twitter, according to The New York Times.
One male first-year cadet told the Times that his upperclassman commander advised him: "If you don't come back with a bloody nose, you didn't try hard enough."
A female first-year cadet defended the event, telling the newspaper: "Right after, when we learned how many people had gotten hurt, everyone felt totally hard-core. I know it looks weird from the outside, but it really bonds us."
Bonding aside, West Point superintendent Lt. Gen. Robert L. Caslen Jr. said there would be discipline for cadets and administrative personnel. His intention, according to the Times, is "to send a clear message that this kind of behavior will not be tolerated."
It's probably time to call off the panty raid.
-Steve Straehley
To Learn More:
Pillow Fights at West Point Are Banned After Injuries (by Richard A. Oppel Jr., New York Times)
At West Point, Annual Pillow Fight Becomes Weaponized (by Dave Philipps, New York Times)
West Point Cadet Quits over Overbearing Religious Atmosphere (by Noel Brinkerhoff, AllGov)