Wells Fargo Accused of Death by Foreclosure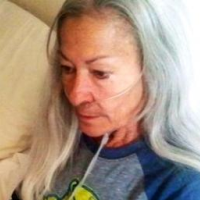 Marsha Kilgore
A woman has sued Wells Fargo Bank, accusing it of causing her mother's death when it foreclosed on her Fresno, California, condominium.
Marsha Kilgore stopped working in 2005 after being treated for breast cancer. After making mortgage payments on her condo for 16 years, she refinanced with a "pick-a-payment" loan through World Savings. In such loans, unpaid interest is added to the balance of the mortgage, causing payments to skyrocket in future years. The next day, Kilgore realized she'd agreed to a bad loan and tried to get it rescinded, but World Savings wouldn't agree. Kilgore's payments eventually went from $656 a month to $1,012 in 2012 and were scheduled to climb to more than $1,750 after 2016.
Kilgore's loan was eventually acquired by Wells Fargo. She attempted to arrange a refinancing of the loan through them, but was unable to and was kicked out of the condo in June 2013. That meant that Kilgore was unable to receive subsidies to run the oxygen concentrator she needed to breathe because she didn't have a permanent address.
"The bank made a conscious decision that their profit meant more than her life, and that's despicable," attorney Lenore Albert, who worked to help Kilgore reclaim her home, told The Fresno Bee. "They knew with 100% certainty that she would lose her home."
Kilgore moved from motels to friends' homes. On October 16, 2013, while hospitalized for an asthma attack, Kilgore died. "It was consuming her," her daughter Brooke Noble said. "My mother could fight for only one thing, her house or her life."
Albert filed a claim against Wells Fargo for $250,000 after Kilgore's death, saying she was owed money or a loan modification under a California class-action settlement with the bank. Then earlier this month, a year to the day after her mother's death, Noble sued Wells Fargo, seeking punitive damages.
To Learn More:
Woman Says Bank Foreclosure Killed Her Mom (by Elizabeth Warmerdam, Courthouse News Service)
Woman With Cancer Loses Fresno Home in Questionable Mortgage Deal (by Marc Benjamin, Fresno Bee)
Wells Fargo Typo Victim Lost His Condo and then His Life in Court (by Ken Broder, AllGov)
Wells Fargo Sued for Allowing Foreclosed Homes in Non-White Areas to Fall into Disrepair (by Noel Brinkerhoff and David Wallechinsky, AllGov)