Walmart Worker Fired for Recycling $5.10 Worth of Cans
Wednesday, November 25, 2015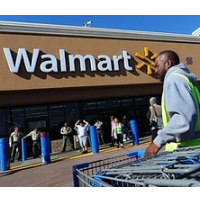 (photo: AFP/Getty Images via @daylife)
Walmart has come under criticism for firing a worker who recycled a few dollars' worth of cans and bottles left outside a store in East Greenbush, New York.
Thomas Smith was terminated after he redeemed $2 worth of cans and bottles left behind in a shopping cart next to redemption machines, plus $3.10 worth of empty beer cans discarded in the parking lot that were redeemed for nickel deposits. Walmart spokesman Aaron Mullins told the Albany Times Union that Smith was fired "for taking property inside the store," specifically the $2 worth of cans and bottles left in the shopping cart.
"I didn't know you couldn't take empties left behind," Smith told the Times Union. "They were garbage. I didn't even get a chance to explain myself. They told me to turn in my badge."
Smith's case is drawing interest from civil rights groups and others. "C'mon. Firing the guy for $2 in bottles and cans? Where's the human compassion? Where's the dignity and respect?" Mark Emanatian, lead organizer of Citizen Action of New York's Albany chapter, told the Times Union.
Smith, a formerly homeless ex-convict with a learning disability, was fired after he was interrogated by three security managers and told to sign a statement, which he could not read because he did not have his glasses with him. He signed it anyway because he did not want to argue and risk violating his parole, he told the newspaper.
The controversy has resulted in "a groundswell of indignation spurred an online petition, calls for action against the retailer and hundreds of angry comments on social media," Paul Grondahl reported.
"I said this is nonsense. Let's just try to help the guy. He made a mistake, give him a warning and move on," Republican Assemblyman Steven McLaughlin said. "He's been in prison, he was homeless and now he's got a job and is trying to contribute to society. They're turning a mole hill into a mountain of bad publicity. I told Walmart they're a week away from their biggest shopping day of the year and they could end up with a bunch of protesters outside the store. Just transfer him to a different store. Easy fix."
A Chicago woman launched a GoFundMe campaign that had raised $4,465 for Smith from 227 donors around the country as of November 20.
-Noel Brinkerhoff, Steve Straehley
To Learn More:
Walmart Clarifies: Employee Fired for Redeeming $2 in Cans Inside Store (by Paul Grondahl, Times Union)
Wal-Mart Employee Fired for Redeeming $5 in Discarded Bottles (by Peter Holley, Washington Post)
Walmart Fined for Misdemeanor Dumping of Hazardous Waste All over the State (by Ken Broder, AllGov California)