Wal-Mart Sued for Pushing Out IT Consultant Who Prayed in Men's Room
Tuesday, September 01, 2009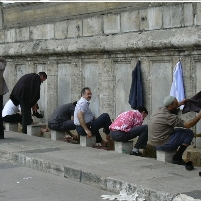 Ablutions in Istanbul
All Mohammed Zakaria Memon wanted to do was pray five times a day while working as an IT consultant for Wal-Mart in their Arkansas-based corporate offices. But this rite of Islam was allegedly unacceptable to Wal-Mart, according to a lawsuit filed by Memon, who lost his job and is now seeking damages from both the retail chain and his former employer, Deloitte Consulting LLP.
According to Memon's complaint, the 59-year-old Pakistani-American citizen was first told he could only pray in the hallways or outside in the parking lot. So, in order to not lose too much time from his work, he began performing the washing ritual (known in Urdu as Wazu) required before every prayer, inside Wal-Mart's men's room.
But some employees complained about the washing, leading Deloitte to tell Memon he couldn't do it. After he explained the importance of the Wazu, his employer instructed him to only pray at his hotel, which was too far away to be a practical solution. After that, Memon was told Wal-Mart was restructuring the project and that he and several other Deloitte consultants would no longer work at the retail headquarters. But, according to his lawsuit, only Memon was taken off the job.
In Minnesota, meanwhile, the local chapter of the
Council of American-Islamic Relations
announced in July that Wal-Mart would rehire an employee who had been fired for praying during breaks at work.
-Noel Brinkerhoff