USDA Sides with Humane Society to Stop Slaughterhouses Using Disabled Calves for Veal
Saturday, February 12, 2011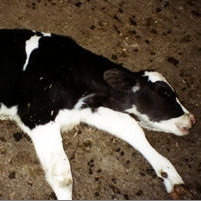 (photo: Farm Sanctuary)
In the case of veal calves, slaughterhouses were allowed to give disabled ("downer") calves a "second chance," leading the farm workers to shock, kick and otherwise abuse the weakened animals to make them stand up.
About 700,000 calves are slaughtered for veal annually.
The USDA under President Barack Obama previously banned the slaughter of all adult downer cattle, requiring that they be humanely euthanized.
-David Wallechinsky, Noel Brinkerhoff