U.S. Forest Service Tries again to Allow Coal Mining in Roadless Areas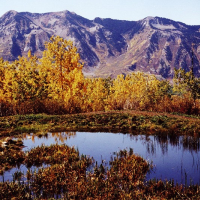 Aspen forest in Sunset Trail Roadless Area (photo: Ted Zukoski, Earthjustice)
Give the Forest Service credit—they're persistent. The agency in 2012 allowed Arch Coal—the nation's second largest oil company—to exploit an exemption in the Colorado Roadless Rule designed to protect wilderness areas in the state from mining. Environmental groups sued, saying the Forest Service hadn't accounted for the environmental costs of mining and burning coal. U.S. District Court Judge R. Brooke Jackson last year agreed, and Arch's plans were blocked.
Now, the Forest Service is trying again to allow Arch to put six miles of road, along with 48 vent pads, in 19,000 acres in the southwestern part of the state that is publicly-owned and protected national forest and wildlife habitat. It has given notice (pdf) that it's working on an environmental impact report so it can allow Arch to go ahead with plans to pull up to 350 million tons of coal out of the region, which would include bulldozing through the aspen forests and wetlands of the Sunset Trail Roadless Area and expanding its nearby West Elk Mine. Arch in 2012 built a $29 million processing center, in part at least in anticipation of this expansion.
The vent pads are necessary to release methane from the mine into the atmosphere. Methane has been found to trap greenhouse gases, the source of global climate change, 30 times more effectively than CO2.
The environmental impact evaluation is not about approving a lease for coal mining, but rather making a determination as to whether the Roadless Rule exemption should be retained, Denver senior Forest Service official Jim Bedwell told The Denver Post. He claimed that the agency's original analysis focused on economic benefits of opening up the forests to Arch, but not on the environmental impact, including the effect of greenhouse gases.
"The Sunset Roadless Area is home to black bears and elk, goshawk and beaver, and provides habitat for the imperiled lynx" Lauren McCain, federal lands policy analyst at Defenders of Wildlife, told the Center for Biological Diversity. "Protecting undisturbed wildlife habitat is critical for preserving Colorado natural heritage. The Forest Service's proposal—which could put miles of road and nearly 50 drilling pads in the Sunset Roadless Area—would damage a wildlife legacy."
"It is a bad idea for wildlife, a bad idea for hunters and hikers and a bad idea for the climate," Ted Zukoski, an attorney for the environmental law group Earthjustice, told The Denver Post.
The point may shortly become moot. Whichever side prevails in the Forest Service ruling, the other side will likely take the matter to court, tying up the project for several years. However, Arch Coal might not be around that long. The company is on the brink of bankruptcy because of the general decline in coal use in favor of somewhat cleaner natural gas. Only 23 million tons of coal was mined in Colorado last year.
-Steve Straehley, Danny Biederman
To Learn More:
Forest Service Moves to Permit Bulldozing in Colorado Roadless Forest for Dirty Coal (Center for Biological Diversity)
Coal Mining in a Roadless Area? Forest Service Says, 'Why Not?' (by Bob Berwyn, Summit County Citizens Voice)
Forest Service Looks to Open North Fork Forest Area to Coal Mining (by Mark Jaffe, Denver Post)
Notice of Intent to Prepare a Supplemental Environmental Impact Statement (U.S. Forest Service (pdf)