U.S. Approves Coal Mine Expansion, Seeing Minor Climate Impact from 160-Million-Ton Carbon Dioxide Output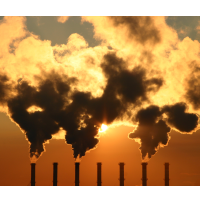 Coal plant emissions (photo: Cleanwater)
By Matthew Brown, Associated Press
BILLINGS, Mont. (AP) — U.S. officials approved a 117 million-ton expansion of a Montana coal mine after concluding that burning the fuel would have a minor impact on the nation's overall greenhouse gas emissions, according to documents released Thursday.
The expansion of the Spring Creek Mine, Montana's largest coal mine, would generate roughly 160 million tons of carbon dioxide over the next five years, according to an Interior Department analysis of the project that was conducted under a court order.
Those emissions would be about one half of 1 percent of projected annual U.S. emissions of the climate changing gas in 2020. Even if the agency blocked the mine expansion, federal officials said power plants served by Spring Creek could obtain coal from mines on private reserves, negating any possible decrease in emissions.
The expansion was first approved in 2012 then held up by environmentalists waging a legal campaign in courthouses across the region to stop or delay mining on public lands in the Western U.S.
The Powder River Basin of Wyoming and Montana accounts for about 40 percent of annual U.S. coal production, most of that from public lands.
Spring Creek is Montana's largest coal mine, located near the town of Decker along the Wyoming border. It's owned by Cloud Peak Energy.
Environmentalists with WildEarth Guardians had sued the Interior Department to challenge the expansion of the mine, which extracts coal from publicly owned reserves, saying it would make climate change worse.
As a result, U.S. District Judge Susan Watters ordered in January a rigorous study of the planned expansion, saying that an earlier review by Interior had failed to take a hard look at its environmental impacts.
Jeremy Nichols with WildEarth Guardians, one of the groups that sued over the expansion, said the government's new analysis is better but still reaches the wrong conclusion.
"We want Cloud Peak to shut down and go away. I'll be totally honest about that," Nichols said. "(Federal mining officials) want to say that this is a drop in the bucket. But every drop matters. ... This is a huge resource locking in hundreds of millions of tons of carbon emissions."
Cloud Peak had warned of major layoffs at Spring Creek if its expansion was thwarted.
Spokesman Rick Curtsinger said in an emailed statement that the company was pleased with the t outcome.
"Spring Creek Mine safely and responsibly continues to meet an important part of America's energy needs while employing hundreds of people and contributing millions in tax and royalty revenue," he said.
The company has another public coal lease application pending for Spring Creek, for 198 million tons, before the U.S. Bureau of Land Management. It's among 30 pending leases federal officials said they won't decide on until completion of a multi-year review of the federal coal leasing program announced in January by the Obama administration.
WildEarth Guardians has prevailed in similar cases in Colorado and New Mexico. In Colorado, mining at the Colowyo Mine was allowed to proceed after a climate change impacts review like the one done for Spring Creek.
In New Mexico, a federal judge ruled in August that Interior officials must do a broad environmental analysis of the San Juan coal mine. U.S. District Judge Robert Junell said to avoid layoffs mining could continue while the study is done.
To Learn More:
U.S. Taxpayers on Hook to Prevent Environmental Disasters at Mines Abandoned by Bankrupt Coal Companies (by Mead Gruver, Associated Press)
Coal Mines Escape Regulation of Methane Emissions (by Matt Bewig)