Unpaid, Homeless Work Concessions at Daytona 500 and Tampa Bay Pro Sports Events
Friday, December 05, 2014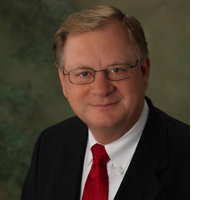 Tom Atchison (photo: New Beginnings)
A Christian preacher in Tampa Bay, Florida, has been accused of exploiting homeless individuals by putting them to work without pay.
Tom Atchison, a Pentecostal pastor and founder of the New Beginnings homeless shelter, makes those living at his facility work concession stands at various sporting events. These include football, baseball and hockey games for the Tampa Bay Buccaneers, Rays and Lightning, respectively.
The homeless, "many of them recovering alcoholics and drug addicts," the Tampa Bay Times reported, also serve food and drinks at Daytona 500 races and the Florida State Fair. The men have additionally performed construction, landscaping, telemarketing, moving, painting, and grant-writing for Atchison.
No salaries are provided for the jobs they perform, which Atchison calls "work therapy."
The homeless leave the games and events "sweat-soaked and as penniless as they arrived," wrote the Times' Will Hobson. They receive only food and shelter.
"Thank God we have these events," Atchison reportedly told his homeless crew. "They bring in the prime finances."
All of the money earned at the concession stands goes to New Beginnings.
The Times also learned that Atchison, who is a former real estate broker, was reported to have overbilled the state for at least $80,000 in grant money, then kept the funds for his operation rather than refunding it. It was also discovered that, although Atchison claims he provides counseling for his homeless workers, he offers no therapy by counselors clinically trained in treating addicts or the mentally ill. A minister who does provide counseling for the group listed his top qualification as operating a motorcycle gang, according to Hobson.
The newspaper investigation comes just as Atchison is trying to win a multi-million-dollar contract to operate the county's new homeless shelter. The required audit that accompanied his application for the contract was described as a fraud by the man whose name is signed on the document as a "registered auditor."
"That's not my signature," insisted Joseph Harold Savich, who told the county that he is a former homeless Navy veteran who had been a resident at New Beginnings. "I'm upset someone signed my damn name."
-Danny Biederman, Noel Brinkerhoff
To Learn More:
Tampa Homeless Program Uses Unpaid, Destitute Residents As Steady Labor Force, Revenue Source (by Will Hobson, Tampa Bay Times)
Rays Concessionaire Centerplate Drops Tampa Homeless Charity (by Will Hobson, Tampa Bay Times)