Trump Wills White House and Presidency to Daughter Ivanka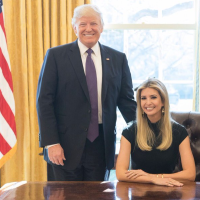 Sources close to President Donald Trump report that in updating his will, in case of his death while in office, he has given the White House and the presidency of the United States to his daughter, Ivanka. When his lawyers explained to Trump that the presidency cannot be passed down as an inheritance, Trump reportedly replied, "But the Bushes did it." Aides reminded the president that Bush Jr. was elected, and that all U.S. presidents are elected. Trump replied that he enjoys running in an election even more than being president, but that, in the long run, elections are a waste of time and money. "Ivanka could be doing better things with her time and money," he said.
When Trump's lawyers explained that the United States Constitution guarantees presidential elections, Trump came up with his definitive argument: "So what? Who's going to stop me?"
According to multiple sources who were present at subsequent conversations, Trump explained, "Republican donors and members of Congress will do whatever I tell them to because I make money for them. The Democrats? Don't be silly. That Mueller, in his report, proved that I obstructed justice in nine different ways. But the Democrats didn't have the balls to impeach me. Don't worry about them.
"The Supreme Court? I have my five. They'll protect me, no matter what I do. The military? I'm the commander-in-chief. They work for me. They're my generals. If any of them try to cause trouble, I'll reassign them to shithole countries."
Ivanka Trump declined to comment, but a spokeswoman for the program she leads, the Women's Global Development and Prosperity Initiative, said that Ivanka continues to send the message that women worldwide don't have to limit themselves to laundering clothes, but, like Ivanka's father and other businessmen, they can learn to launder money as well.
When AllGov called to confirm and clarify this last statement, we were told that the spokeswoman had been reassigned.
-David Wallechinsky
(satire)