Tribe that Gave Seattle its Name Denied Federal Recognition as a Tribe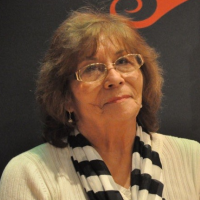 Cecile Hansen (photo: Joe Mabel, Wikimedia Commons)
The Duwamish tribe of Washington state is famous for giving the city of Seattle its name, but as far as the federal government is concerned, the Duwamish no longer exist.
Descendants of the Native American tribe have been fighting for years with the Department of the Interior, which ruled (pdf) last week that it would not grant federal recognition to the Duwamish. Interior officials contend tribal leaders cannot "demonstrate a continuous distinct community or that it historically had political influence over its members," according to Courthouse News Service.
Cecile Ann Hansen, the tribe's chairwoman for 40 years and a descendant of chief Si'alth, for whom Seattle was named, criticized the agency's decision, saying "we have again been denied our rightful place in the history of Seattle." The tribe's existence goes back 8,000 years in the Puget Sound region. "Shame on the Bureau of Indian Affairs!" Hansen said in a statement.
Hansen thought the Duwamish had won their fight 14 years ago, when the Interior Department under President Bill Clinton granted recognition to the tribe. But the agency under President George W. Bush overturned the ruling. That led to a lengthy court fight that resulted in the agency announcing on July 2 that, yet again, the government would not recognize the tribe.
"The evidence is insufficient to show that it was a continuation of a previous community, or that it evolved as a group from the historical Duwamish tribe. Even though the petitioner's individual members descend from an Indian tribe that inhabited the southern Puget Sound region at the time of the 1855 treaty, its ancestors (primarily Duwamish women and their non-Indian spouses) soon dispersed throughout western Washington," according to the ruling.
The decision could cost tribal members important benefits, like subsidized housing, education, health care and the opportunity to open a casino.
Hansen vowed to continue "to fight on."
-Noel Brinkerhoff
To Learn More:
Chief Seattle's Tribe Denied U.S. Recognition (by June Williams, Courthouse News Service)
Duwamish Tribe Vows to Keep Fighting for Recognition, Despite Last Week's Decision (by Sydney Brownstone, The Stranger)