Toddlers have Shot Themselves or Someone Else At Least 43 Times This year
Thursday, October 29, 2015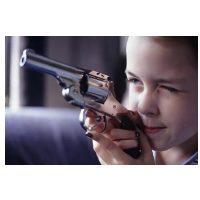 (photo: Jim Corwin, Photographer's Choice/Getty Images)
The National Rifle Association (NRA) has strongly opposed any gun safety legislation, with Executive Vice President Wayne LaPierre going so far as to say, "The only way to stop a bad guy with a gun is with a good guy with a gun." But what if the "bad guy with a gun" is a toddler?
Toddlers shoot themselves or others almost every week in the United States. Christopher Ingraham, who writes the Wonkblog column for The Washington Post, earlier this month found 43 instances of that happening so far this year with children age 3 or younger.
That number is probably an undercount, Ingraham wrote, because he tracked only the cases he could find in the news media. Other shootings, especially those that might not have resulted in serious injury, likely went unreported.
Probably the most famous recent example is the 2-year-old riding in the backseat of a car in South Carolina who discovered a gun and shot his grandmother, who was sitting in the front seat. But there have been many other cases, most involving the toddler killing himself (boys are far more likely to do this; only three of the cases turned up by Ingraham involved girl shooters).
Here's how the numbers have broken down so far in 2015:
· 13 toddlers have killed themselves with guns
· 18 other small children injured themselves
· 10 injured other people
· Two killed other people
Not surprisingly, states with lax gun laws appear to have more shootings by toddlers. Missouri, with loose gun regulation, leads the list with five such shootings. But California, the most populous state but also one with tighter gun safety laws, has had none.
Gun locks and smart guns, which will fire only if the registered owner is holding it, are available but laws making them requirements have been fought tooth and nail by gun owners' associations. Apparently, dead toddlers are an acceptable price to pay for the Second Amendment, at least as far as the NRA is concerned.
-Steve Straehley
To Learn More:
People are Getting Shot by Toddlers on a Weekly Basis This Year (by Christopher Ingraham, Washington Post)
Toddlers in America have Accidentally Shot One Person a Week in 2015 (by Helena Horton, The Telegraph)
#NotAnAccident Index (Everytown for Gun Safety)
Two Children a Week Killed in U.S. by Accidental Shootings (by Steve Straehley, AllGov)
Review Finds Twice as Many Accidental Gun Deaths of Children as Reported (by Noel Brinkerhoff and Danny Biederman, AllGov)