Thousands of Fish Die When California Reservoir Suddenly Runs Dry
Saturday, October 03, 2015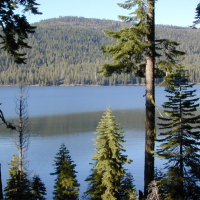 Mountain Meadows Reservoir (photo: U.S. Forest Service)
Perhaps it was inevitable that the Mountain Meadows Reservoir, 160 miles north of Sacramento, California, would run dry in the face of unrelenting drought. The former Walker Lake, a one-time destination for boaters and recreational fishermen, was looking mighty puny of late.
But that didn't prevent shock and dismay when nearby residents awoke to find the artificial lake drained overnight, with thousands of dead and dying fish strewn about. Pacific Gas & Electric (PG&E), which uses the reservoir as part of its Feather River hydroelectric system, said nature had taken its course and nothing had changed operationally to hasten the decline.
Jane Braxton Little of the Sacramento Bee said not everyone was assured. "Something went haywire," Aaron Seandel, chairman of a committee that monitors nearby Lake Almanor, told the paper. There wasn't a lot of water in the reservoir before it went dry (maybe 170 acre feet), but folks were fishing in it the week before.
"This makes me feel like they didn't want to do a fish rescue and that it was easier to open that sucker up Saturday night," resident Eddie Bauer told CBS Sacramento.
PG&E said the water drained when workers doing routine maintenance removed some brush and materials from a clogged outlet valve. California's Department of Fish and Wildlife (DFW) requires that a minimum amount of water be released from the dam to keep fish alive in Hamilton Branch. There are also logging interests downstream.
But the department also wanted to preserve the reservoir, which attracts local and migratory fish and wildlife, and at the utility's request agreed to slow the outflow, according to Cort Johnson of the Plumas County News. California's Department of Water Resources joined in and the three worked on a coordinated response to the problem.
Those changes were not implemented and the reservoir, already heavily impacted by the low flow of the handful of streams that fed it, tipped perilously close to an ecological disaster.
Kayaker and author Janice L. Green wrote admiringly about the reservoir, hidden in a maze of dirt roads that snake through a towering conifer forest:
"While paddling, keep your eyes out for the abundance of wildlife in the area, including breeding and migrating waterfowl. The breathtaking scenery surrounding the reservoir are apt to make your visit here enjoyable."
The water was shallow, but navigable. The only public access point for her was a small boat ramp, so traffic on the surface was sparse compared to Lake Almanor. But people were reeling in largemouth bass, pan fish, suckers, eagle lake, brook and brown trout.
She wrote, "If I didn't know for certain there was a reservoir of a relatively large size, on my first visit, I would have sworn Mountain Meadows Reservoir didn't exist."
Now, it doesn't.
-Ken Broder
To Learn More:
Mountain Meadows Reservoir Empties Stranding Fish (by Susan Cort Johnson, Plumas County News)
Sudden Loss of Water in Lassen County Reservoir (by Jane Braxton Little, Sacramento Bee)
California Lake Mysteriously Runs Dry Overnight, Killing Thousands of Fish (by Kelly Ryan, CBS Sacramento)
California Lake Dries Up Overnight, Leaving Thousands of Dead Fish (by Hilary Hanson, Huffington Post)
Mountain Meadows Reservoir (Janice L. Green, Paddling California)