The Number of People with Security Clearances Drops by 12%, but 1.2 Million Still have Top Secret Access
Wednesday, April 29, 2015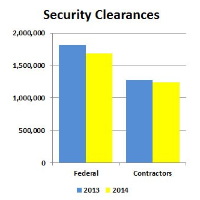 (graphic: Steve Straehley, AllGov)
Since being embarrassed by a high-profile whistleblower and a mass murderer, both of whom had government security clearances, the Obama administration has worked to reduce the number of individuals who have access to classified information.
There are still more than a million people with official approval to look at top secret materials, however.
Changes to the government secrecy apparatus were prompted by Edward Snowden, the National Security Agency contractor who turned over volumes of classified files to WikiLeaks and news outlets, and Aaron Alexis, a civilian who used his security access to the Washington Navy Yard to fatally shoot 12 people.
These changes resulted in a 12% reduction in the number of individuals holding government-issued security clearances from 2013 to 2014, according to a new government report (pdf) from the Office of the Director of National Intelligence. In terms of actual numbers, the decline went from 5.1 million in fiscal year 2013 to 4.5 million in 2014.
The 4.5 million total represented the lowest clearance population since 2010, the first year the statistics were available, according to Government Executive.
But even with this overall reduction, about 1.2 million people—both government employees and contractors—still maintained access to top secret information. Of this total, about 647,000 were federal employees. Another 452,000 worked for private companies doing business with the government. Still another 177,000 "other" individuals also had top-secret clearance.
"There's still some fat in the system that could be trimmed away," Steven Aftergood, director of the Federation of American Scientists Project on Government Secrecy, told Government Executive. "The experience in the last year has shown that that's possible." Aftergood said efforts to declassify information will lead to further reductions in security clearances.
The report noted that the security clearance system has two types of eligible people: "In access" and "not in access."
The total of in-access people—those who "were investigated and adjudicated favorably and also were briefed into access to classified information"—was reduced by 165,000 from 2013 to 2014.
The reduction was even greater for not-in-access individuals, "those supporting the military" who "may be determined eligible due to the sensitivity of their positions and the potential need for immediate access to classified information, but may not have actual access to classified information until the need arises," the report states. The total of not in access went down by 471,000 individuals, or 23%, from 2013 to 2014.
-Noel Brinkerhoff
To Learn More:
Number of Security Clearance Holders Drops 12 Percent (by Eric Katz, Government Executive)
2014 Report on Security Clearance Determinations April 2015 (Office of the Director of National Intelligence) (pdf)
DoD Cut Security Clearances by 15% in Last Two Years (by Steven Aftergood, Secrecy News)
Americans with Government Security Clearance Top 5 Million (by Noel Brinkerhoff and Danny Biederman, AllGov)