The NRA Clause in Obama's Health Care Reform Law
Wednesday, January 02, 2013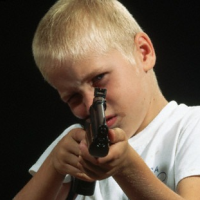 (photo: Seattle Weekly)
Buried within the tome that is the federal healthcare reform law is a provision, only recently noticed and now much debated, that restricts doctors from gathering data about their patients' gun habits.
The clause, which falls under the heading "Protection of Second Amendment Gun Rights," was added to the Patient Protection and Affordable Care Act at the insistence of the National Rifle Association (NRA).
In the wake of the Newtown shooting, and the group's suggestion that armed police guard the nation's schools, the NRA is taking heat for wedging the gun-rights provision into the law.
The NRA says the clause is necessary in order to prevent insurance companies from using gun data gathered by doctors to raise premiums on firearms owners.
Physician groups object to the provision, claiming it is part of a longstanding push by the NRA and the gun lobby to eliminate federal support for studies on firearms violence.
In June 2011, Florida Gov. Rick Scott signed into law a bill that forbade pediatricians from asking parents if they have guns in their home, a practice that was considered routine with new parents in order to encourage them to engage in gun safety. However in July 2012 a federal judge blocked implementation of the law.
-Noel Brinkerhoff
To Learn More:
NRA Fingerprints In Landmark Health-Care Law (by Peter Wallsten and Tom Hamburger, Washington Post)
Federal Judge Halts Florida Law Prohibiting Doctors from Talking about Guns (by Noel Brinkerhoff, AllGov)
Florida Law will Prohibit Pediatricians from Asking Parents if Guns are Safely Stored (by Noel Brinkerhoff, AllGov)