The Family that became Billionaires Thanks to other People's Pain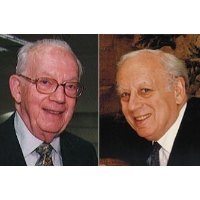 Raymond Sackler, Mortimer Sackler (photos: UC Berkeley, Purdue Pharma)
The newest addition to Forbes' list of the richest American families is the Sacklers, who made billions of dollars off the suffering of others.
The Sacklers own Purdue Pharma, maker of Oxycontin, a heavy-duty painkiller that has turned millions into addicts.
Sales of the drug have been tremendous for the Sacklers. The family's worth is estimated to be $14 billion, making them the 16th richest family in the country, according to Forbes. Purdue has made $35 billion from Oxy sales since the company introduced it in the mid-1990s under the company founders, brothers Mortimer and Raymond Sackler.
Oxycontin had been around since World War I and was originally reserved for cancer patients because of its potency and addictive properties. When Purdue wanted to market the drug for different types of pain, the company formulated it in a way that its medicine would be released over time in the hopes that that would make it harder to abuse. They apparently didn't realize that the pills could be crushed to provide an instant—and addictive—rush.
More than 50 million prescriptions of the drug were issued in 2012, thanks in part to "Purdue Pharma's aggressive marketing campaign," Phillip Smith wrote at AlterNet. "And while it's difficult to isolate Oxycontin from other opiate analgesics, it has been a big driver in the four-fold increase in prescription opiate sales between 1999 and 2010," Smith added.
The drug also has been blamed for helping cause the increase in prescription drug overdoses. "According to the Centers for Disease Control, of the nearly 44,000 drug overdose deaths in the U.S. in 2013, more than half were from prescribed drugs, and of those deaths, 72% were from opiate overdoses," Smith wrote.
Mortimer died in 2010. Raymond is still alive at 94, but isn't involved with the management of the company. Just in reaping its profits from other's addictions.
-Noel Brinkerhoff, Steve Straehley
To Learn More:
Family That Made a Fortune off the National Oxycontin Epidemic Has Just Landed on Forbes' Richest List (by Phillip Smith, AlterNet)
The OxyContin Clan: The $14 Billion Newcomer to Forbes 2015 List of Richest U.S. Families (by Alex Morrell, Forbes)
Chicago Sues Drug Companies over Painkiller Marketing (by Noel Brinkerhoff, AllGov)
Two California Counties Sue Narcotics Makers over Deceptive Marketing (by Ken Broder, AllGov California)