Texas Regulators Allowed Coal-Fired Power Plant Owners to Raise Pollution Limits far above Federal Standards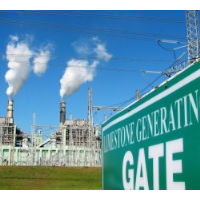 Limestone Power Plant (photo: Dave Fehling, StateImpact Texas)
Texas regulators allowed coal-burning plants in that state to emit more pollution than is acceptable under federal law.
The Environmental Integrity Project says it obtained emails revealing that the Texas Commission on Environmental Quality (TCEQ) privately told members of the Association of Electric Companies of Texas, the state's electric power trade association, they could release air pollutants above what is acceptable under the federal Clean Air Act (pdf) during the startup, shutdown, and maintenance of coal plants. "In one case, for example, the coal plants are allowed to emit 30 times more pollution than the previous limit," Republic Report said. "Particulate pollution is the fly ash emitted from power plants, which can cause serious health effects such as lung cancer and heart disease."
The Environmental Integrity Project and other groups are petitioning the federal Environmental Protection Agency to block the permit changes, which TCEQ made from 2011 to 2013. In the case of two coal-burning plants in Limestone County, for instance, state regulators approved the release of 7,616 pounds of particulates per hour during maintenance, startup and shutdown. The plants' maximum before the change was 256 pounds per hour.
Most of the coal-burning plants authorized by TCEQ are in central and eastern Texas, where winds can carry their emissions to the Dallas-Fort Worth area, according to the Dallas Morning News.
Eric Schaeffer, executive director of the Environmental Integrity Project, said the state permits were an example of the state's "chronic disregard" for federal clean-air standards. "The old assumption has been that Texas can do what it wants," Schaeffer, who headed the EPA's Office of Civil Enforcement from 1997 to 2002, told the Morning News. "But it can't unilaterally change Clean Air Act requirements."
The state and power plant operators claim the emissions from the plants have not increased, but Schaeffer says calculations show they are underestimating the pollution emitted at the startup of the plants.
Republic Report added that the collaboration between TCEQ and the utility industry is "just the latest in an expanding list of examples showing the influence power companies have with state regulators and decision-makers."
-Noel Brinkerhoff, Steve Straehley
To Learn More:
Electric Utility Industry Created Their Own Air Pollution Permits, Held Private Meetings With Texas Regulators (by Matthew Kasper, Republic Report)
Texas Citizen Groups Petition EPA Over Coal-Fired Power Plants Exempt From Federal Air Pollution Limits (Environmental Integrity Project)
Group Says Texas Coal Permits Violated Clean Air Act (by Randy Lee Loftis, Dallas Morning News)