Telecom and Tech Firms Work to Expand Internet Access to Poor and Rural Areas
Wednesday, October 12, 2016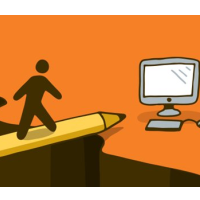 (graphic: LinkedIn)
By Cecilia Kang, New York Times
WASHINGTON — With broadband now classified as a utility, telecom and tech companies including Sprint, Comcast and Facebook are increasingly working to make high-speed internet accessible to every American, not just a luxury.
The companies are among those that have set their sights on bringing free or cheap high-speed internet service to low-income and rural populations in the United States, spurred by philanthropy and, for some, the hope of turning Americans who are not online today into full-paying customers in the future.
Those goals were on display Tuesday, when Sprint announced that it plans to give 1 million low-income high school students a free device and a free high-speed data plan until graduation. Facebook is also working to bring to the U.S. a service known as Free Basics, which gives people free access to certain websites, including Facebook. Comcast recently loosened requirements for its low-cost broadband service, expanding it to anyone in public housing.
These moves go toward closing what has been an intractable divide between broadband haves and have-nots. About 20 percent of Americans do not have a mobile data plan or broadband at home because the services are too expensive or they live too far from the networks, among other reasons. That often leaves such households in a worse-off position for basic tasks like doing homework and applying for jobs, all of which have moved online over the years.
"The private sector has as much responsibility as the public sector to make devices and broadband available to millions of young Americans," said Broderick Johnson, President Barack Obama's Cabinet secretary and chairman of a White House task force that worked with Sprint on its new program.
Some of the companies acknowledged the business strategy involved in providing low-income products. But Sprint's chief executive, Marcelo Claure, said the priority has been to work on a problem that telecom firms are best positioned to help solve.
"The internet is one of the few things that doesn't discriminate, but the one thing that does discriminate is who can get online and who can't," he said.
To Learn More:
Lack of Internet Access Puts Low-Income and Rural School Children at Disadvantage (by Cecilia Kang, New York Times)
Government Blocks Facebook Program for Low-Income Users (by Vindu Goel and Mike Isaac, New York Times)
Rural Broadband Plan Detours to the Suburbs (by Noel Brinkerhoff, AllGov)