Supreme Court Rules Dentists cannot have a Monopoly on Teeth Whitening
Friday, February 27, 2015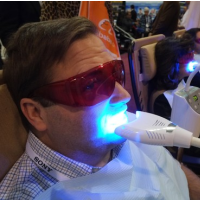 (photo: AFP/Getty Images)
In a decision with national implications, the U.S. Supreme Court has ruled that dentists can't monopolize teeth-whitening services.
The case originated in North Carolina where the State Board of Dental Examiners had tried to stop non-dentists from offering teeth-whitening in salons and at mall kiosks. But the high court agreed with the Federal Trade Commission (FTC), which challenged the board's authority to restrict the cosmetic service to dental offices only.
The FTC said the state dental board "illegally thwarted competition by working to bar non-dentist providers of teeth-whitening goods and services from selling their products to consumers," according to the Association of Health Care Journalists.
The dentists-only rule set by the board was "anti-competitive and unfair," in effect giving them a monopoly over teeth whitening, a majority of the justices ruled in the 6-3 decision.
The court "agreed with the FTC's claim that although state entities are usually exempt from federal antitrust laws, the NC dental board was not because of the makeup of its membership and the lack of active supervision by the state," wrote Anne Blythe of the Raleigh News & Observer.
The state board is made up of eight members, six of whom are practicing dentists, and it is funded by the dental industry. "They have an evident self-interest," Deputy Solicitor General L. Malcolm Stewart argued before the court on behalf of the FTC. "That active self-interest is reinforced by their method of selection, not by the governor or the public but by the community of dentists."
Since many state licensing boards in the U.S. are structured similarly to the North Carolina board—that is, lacking state supervision—the ruling (pdf) may have ramifications beyond North Carolina. Jeffrey Brennan, a former head of the FTC's health care division and currently a partner in the Washington antitrust practice at McDermott Will & Emery, told Modern Healthcare that he expects that the Supreme Court decision may indeed impact many state boards in the U.S.
It was in the 1990s that dentists in North Carolina added teeth-whitening services (strip or gel peroxide application to teeth) to their practices, according to McClatchy. It became so popular that, as of 2003, spas and salons began to offer the same service, but charging less. Dentists reacted by complaining to the state board, which responded by going after the non-dentist services with cease-and-desist orders, threats of criminal prosecution, and pressuring malls to deny them space for their business. The pressure tactics succeeded in shutting down the non-dentist teeth-whitening market in the state.
The FTC entered the fray in 2010 by filing a complaint against the board. The battle made its way through the court system until it landed at the docket of the U.S. Supreme Court in 2014.
- Danny Biederman, Noel Brinkerhoff
To Learn More:
SCOTUS Decision on Teeth-Whitening Business May Hold Wider Implications for Medical Boards (by Mary Otto, Association of Health Care Journalists)
Supreme Court Says 'Open Wide' to North Carolina Teeth-Whitening Business (by Michael Doyle, McClatchy)
Justices Rule for Open Teeth-Whitening Market (by Dan McCue, Courthouse News Service)
North Carolina State Board of Dental Examiners v. Federal Trade Commission (U.S. Supreme Court) (pdf)