Suicide Rate of Female Military Veterans is 6 Times the Rate of Other Women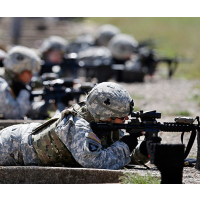 Female soldiers deployed to Afghanistan (photo: Mark Humphrey, AP)
A study has shown that female military veterans have a suicide rate more than five times that of women who have never served in the military.
The study, published in Psychiatric Services, showed that the differential is even greater for women ages 18 to 29, the Los Angeles Times reported. These veterans kill themselves at nearly 12 times the rate of nonveterans.
Non-veteran women have 5.2 suicides per 100,000 population, while women veterans have a rate of 28.7 per 100,000. That approaches the rate of male veterans, which is 32.1. Non-veteran men have a rate of 20.9.
"It's staggering," Dr. Matthew Miller, an epidemiologist and suicide expert at Northeastern University who was not involved in the research, told the Times. "We have to come to grips with why the rates are so obscenely high."
Researchers can't say for sure why female veterans have such a high suicide rate. One reason might be that women who join the military might disproportionately have a higher risk of suicide, or that sexual assaults and other traumatic experience might come into play, the Times' Alan Zarembo wrote.
-Noel Brinkerhoff, Steve Straehley
To Learn More:
Suicide Rate Of Female Military Veterans Is Called 'Staggering' (by Alan Zarembo, Los Angeles Times)
Changes in Suicide Mortality for Veterans and Nonveterans by Gender and History of VHA Service Use, 2000–2010 (by Claire A. Hoffmire, Janet E. Kemp and Robert M. Bossarte, Psychiatric Services)
Women Veterans: The Long Journey Home (Disabled American Veterans) (pdf)