Study Shows Correlation Between States' Gun Licensing Laws and Suicide Rates
Sunday, September 13, 2015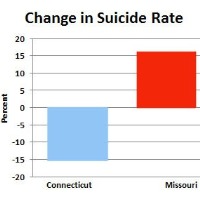 There's a direct correlation between ease of gun purchasing in various states and suicide rates, according to a study.
Researchers with the Johns Hopkins Center for Gun Policy and Research looked at Connecticut, where lawmakers in 1995 passed a law requiring individuals to obtain a permit or license to purchase a handgun after passing a background check. They also examined Missouri, which repealed its handgun purchaser licensing law eight years ago.
Connecticut's rate of suicide by firearm dropped 15.4% after it enacted a waiting period and background checks. In Missouri, suicides via firearm increased 16.1% after that state in 2007 repealed its law requiring that those wanting to purchase firearms apply for a permit at the local sheriff's office.
"Contrary to popular belief, suicidal thoughts are often transient, which is why delaying access to a firearm during a period of crisis could prevent suicide," study author Daniel Webster, director of the Johns Hopkins Center for Gun Policy and Research, said in a statement. "Just as research indicates that handgun purchaser licensing laws are effective in reducing firearm homicides, they could reduce suicides by firearms as well."
Part of the reason might be that factors that cause someone to purchase a firearm are also risk factors for suicide. "Although these laws were not designed to reduce suicides, many of the risk factors that disqualify someone from legal gun ownership – domestic violence, history of committing violent crimes, substance abuse, severe mental illness and adolescence – are also risk factors for suicide," Cassandra Crifasi, an assistant scientist with the Center for Gun Policy and Research and lead study author, said.
But Crifasi warned that the study does not indicate a clear causal relationship. "When we examined whether there were changes in suicides committed by other means following the changes in the laws, there was some evidence that Connecticut experienced lower than expected rates of suicides by means other than firearms," she added. "This suggests that factors other than handgun purchaser licensing may have contributed to the decline in suicides." It was noted that there was no significant change in suicide by other means following Missouri's repeal of the law.
The researchers had previously looked at the two laws to see how their adoption/repeal affected gun-related homicides. That earlier study found Connecticut experienced a 40% drop in gun homicides, while Missouri had a 25% increase in its firearm homicide rates.
-Steve Straehley, Noel Brinkerhoff
To Learn More:
Suicide-By-Firearm Rates Shift in Two States After Changes in State Gun Laws (Johns Hopkins Bloomberg School of Public Health)
Effects of Changes in Permit-To-Purchase Handgun Laws in Connecticut and Missouri on Suicide Rates (by Cassandra K. Crifasi, John Speed Meyers, Jon S. Vernick and Daniel W. Webster, Preventative Medicine)
86 Firearm Deaths a Day in U.S.; 60% are Suicides (by Noel Brinkerhoff, AllGov)