Study Links Unregulated, Ultrafine Pollution Particles to Heart Disease Deaths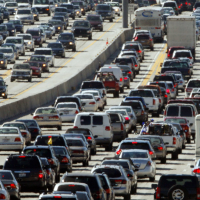 Los Angeles traffice (AP Photo)
It's been decades since health concerns were first raised about the ultrafine particles (UFP) spewed out by vehicles and other combustion-producing sources, but unlike the fine particles that accompany them, it is not felt that enough is known about the pollutant to regulate it.
This might help.
A new report (pdf) published in the journal Environmental Health Perspectives found a stronger association in some cases between heart disease deaths and long-term exposure to UFPs than with fine particles, which are subject to both federal and state emissions regulations. Some particulate constituents, including copper, iron, other metals and elemental carbon (soot), were strongly associated with death from heart attacks.
The study was conducted by California's Office of Environmental Health Hazard Assessment (OEHHA), the Cancer Prevention Institute of California, the City of Hope National Medical Center and University of California, Davis. It analyzed data from more than 100,000 middle-aged women between 2000 and 2007. They were teachers and administrators culled from the California State Teachers' Retirement System (CALSTRS).
"Our findings suggest that ultrafine particles may have a significant impact on public health," lead author Dr. Bart Ostro, former chief of OEHHA's Air Pollution Epidemiology Section, said in a press release.
Ultrafine particles are about 0.1 micron in diameter, which is one-thousandth the width of human hair. Their tiny size allows them to pass through the lungs and into the bloodstream.
A number of studies have looked at the effect of short-term exposure. In fact, there has been such a "substantial body of literature" on the subject—"their spatial and temporal distribution in ambient air, their inhalation and fate in the body, their mechanisms of toxicity, and their adverse effects in animals and in humans"—that in January 2013, the Health Effects Institute (HEI) published a report (pdf) pulling it all together.
Although scientists "expect that UFPs may have specific or enhanced toxicity relative to other particle size fractions and may contribute to effects beyond the respiratory system," the report concluded, "the considerable body of research has not provided a definitive answer to this question."
So the verdict is out on short-term exposure, according to HEI, which is an independent non-profit corporation jointly funded by the U.S. Environmental Protection Agency (EPA) and the worldwide motor vehicle industry.
But what about long-term exposure? It was an easy answer in 2013. "No epidemiologic studies of long-term exposures to ambient UFPs have been conducted," the report noted.
Now, they have one to add to the next roundup of studies.
-Ken Broder
To Learn More:
Exposure to Small Particle Pollution Linked to Heart-Disease Death (by Edward Ortiz, Sacramento Bee)
Ultrafine Particles Linked to California Heart Disease Deaths, Study Finds (by Tony Barboza, Los Angeles Times)
Ultrafine Particle Research (U.S. Environmental Protection Agency)
Vehicle Air Pollution Found Farther from Freeways than Expected (by Ken Broder, AllGov California)
Study Finds Long-Term Exposure to Ultrafine Particle Air Pollution Associated with Death from Heart Disease (California's Office of Environmental Health Hazard Assessment)
Understanding the Health Effects of Ambient Ultrafine Particles (Health Effects Institute)
Associations of Mortality with Long-Term Exposures to Fine and Ultrafine Particles, Species and Sources (Environmental Health Perspectives) (pdf)