Student Settles with Philadelphia Police after Airport Arrest for Carrying Arabic Flash Cards
Wednesday, January 28, 2015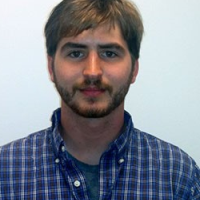 Nick George (photo: ACLU)
The Philadelphia Police Department has agreed to settle out of court with a college student who was arrested for trying to board a plane with Arabic flash cards.
Nick George was bound for Pomona College in 2009, carrying a set of Arabic-language flash cards and "Rogue Nation," a book critical of President George W. Bush's foreign policy, when he was detained at Philadelphia International Airport by Transportation Security Administration (TSA) agents.
TSA agents were concerned about the flash cards, and according to George, asked him: "Do you know who did 9/11?"
George replied: "Osama Bin Laden."
The TSA supervisor then asked him if he knew what language Osama Bin Laden spoke.
"Arabic," George replied.
To which the TSA supervisor replied: "So do you see why these cards are suspicious?"
Then, a Philadelphia police officer approached George and handcuffed him. He spent five hours under arrest, cuffed the entire time.
With help from the American Civil Liberties Union, George sued the police department, which will pay him $25,000. The settlement also calls for Philadelphia police to be instructed on proper procedures involving detention of travelers.
"America is safe once again for people who like to study foreign languages and read books on foreign policy in airports," Xeni Jardin wrote at Boing Boing about the case.
-Noel Brinkerhoff
To Learn More:
I Was Arrested for Learning a Foreign Language. Today, I Have Some Closure. (by Nick George, American Civil Liberties Union)
Student Arrested for Studying Arabic Settles Lawsuit with Police (Sputnik)
American Student Arrested for Arabic Flash Cards in Airport after TSA Freaked Out Settles Lawsuit (by Xeni Jardin, Boing Boing)
ACLU Sues Over Unconstitutional Airport Detention And Interrogation Of College Student Carrying Arabic Flashcards (American Civil Liberties Union)
Student Can't Sue TSA Agents Over Philadelphia Airport Detention For Arabic Flashcards (by Emily Babay, Philadelphia Inquirer)