States with Medical Marijuana have Lower Rate of Drug Overdoses
Thursday, August 28, 2014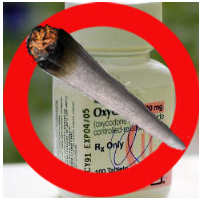 (graphic: Steve Straehley, AllGov)
The availability of legal medical marijuana has resulted in noticeably fewer prescription drug overdoses in the jurisdictions it's accessible, according to a new medical study.
Researchers using federal health statistics found a 25% annual reduction in drug overdose mortality rates in states that allow medical marijuana. They also discovered that the reductions tend to occur very shortly after adopting medical marijuana laws and strengthen over time.
"We think that people with chronic pain may be choosing to treat their pain with marijuana rather than with prescription painkillers, in states where this is legal," Dr. Marcus Bachhuber, the study's lead author and researcher with the Center for Health Equity Research and Promotion at the Philadelphia Veterans Affairs Medical Center, told HealthDay.
Or as Olga Khazan put it at The Atlantic: "The results suggest… that people were choosing pot over Percocet." The study's authors, however, pointed out that they did not find a cause-and-effect relationship between marijuana legalization and the lower overdose death rate.
Twenty-three states and the District of Columbia have decriminalized medical marijuana.
Meanwhile, drug overdoses from prescription painkillers soared 118% from 1999 to 2011, with an average of 113 overdose deaths per day that year, according to the Centers for Disease Control and Prevention.
-Noel Brinkerhoff
To Learn More:
Lower Opioid Overdose Death Rates Associated with State Medical Marijuana Laws (JAMA Internal Medicine)
Fewer Painkiller Deaths in States with Medical Pot (by Dennis Thompson, HealthDay)
States With Medical Marijuana Have Fewer Painkiller Overdose Deaths (by Olga Khazan, The Atlantic)
Legalizing Medical Marijuana Can Help Prevent People from Overdosing on Painkillers (by Sam Collins, Think Progress)