State Lawmakers' Skimpy 1-Sentence Draft Bills Often Mislead Public
Saturday, December 31, 2016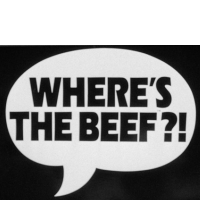 (graphic: Wendy's)
By Marina Villeneuve, Associated Press
AUGUSTA, Maine (AP) — With the annual return of legislators to the Statehouse comes the predictable pile of one-sentence draft bills that give an idea of what legislators want to do but not how they're going to do it.
Take the one-sentence draft to reform Maine's highly complex school funding formula. Or the brief proposal to amend Maine's constitution to exempt lobster traps from property taxes.
Some lawmakers and advocacy groups are critical of the vague drafts, saying they can shut out the public from important policy discussions, be used as a bait-and-switch tactic or lead to unintended consequences. Several lawmakers said that after drafts have an initial hearing and get fleshed out into formal bills during the committee process, the finished product doesn't always get another public hearing.
"The troubling part for those who advocate is the old adage that the devil is the details," said lobbyist Kate Dufour, of the Maine Municipal Association, which represents nearly 500 cities and towns. "It's very difficult to state a position on a concept."
The Maine Legislature started allowing so-called concept drafts nearly two decades ago.
Since then, lawmakers have submitted 100 or so during each legislative session, according to a review by The Associated Press of public databases of state legislation. Democratic Rep. John Martin said many are fully drafted by the time they make it to committee.
The deadline for all bills was Friday, and lawmakers return Wednesday.
The National Conference of State Legislatures criticized such skeleton bills decades ago and in 1996 identified a dozen or so states that allowed such drafts. Last December, Nevada's Senate adopted a temporary rule prohibiting skeleton bills.
In Maine, the governor, state agencies and specific committees can't submit draft bills, which are put together by bill revisers and sent to committees, which can then make the drafts into bills.
"Obviously there are people who submit concept bills as a way of throwing spaghetti at the wall and seeing if it sticks," said Democratic Rep. Michael Devin, who last session submitted a draft on combating Maine's marine debris that eventually became law and plans to submit another draft on the issue.
He said it's possible he could have worked on the legislation with experts last year but was worried about being re-elected.
Republican Sen. James Hamper, who chairs the Legislature's appropriations committee, said it's normal for his committee to have some bill drafts just in case. But he's not a fan.
"To me, it says the legislator has not taken any time to research and make any suggestions," he said.
In 2014, Republican Sen. Roger Katz, who chairs the government oversight committee, suggested and withdrew a motion to require fleshed-out concept drafts to get a public hearing and work session. Dufour, of the Maine Municipal Association, said she'd support such a solution.
Former Democratic Rep. Sharon Treat sponsored an unsuccessful rule change in 2011 to eliminate concept drafts, which she says waste time and inhibit transparency.
"It encouraged people to have vague ideas about doing something without having to think through the process," said Treat, who helped create the Senate committee that reviews internal rules. "And I don't know what the benefit of it is."
One example of a one-sentence draft turning into a big, complex bill is a 2012 law calling for new mining rules. The sentence went to a committee in March, and a month of work sessions and two public hearings later, it became a 23-page law paving the way for conglomerate J.D. Irving to mine in northern Maine.
"These are big issues. To have those cloaked within a concept draft was, we believe, an intentional and deceptive and misuse of legislative process," said lobbyist Pete Didisheim of the Natural Resources Council of Maine. "Clearly, they had been working months on a rewrite of the law."
Didisheim said because it was an after-deadline bill, it wasn't required to have the normal public notice.
Martin, who sponsored the law, called Didisheim's criticisms "misinformed" and said the act was to help spur northern Maine's economy. "It started as a concept draft because we didn't have time to do a complete draft changing the law," Martin said.
Martin, an early supporter of the drafts, said that turnover rates can be high in the Maine Legislature and that newly elected legislators may "just not have the time" for drafting a complete bill on a complex issue by the Dec. 30 deadline.