Spreading Oil Worker Strike Biggest in U.S. in 35 Years
Tuesday, February 10, 2015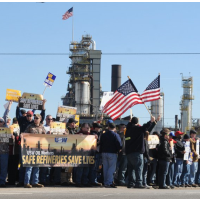 USW workers on strike in front of refinery in Catlettsburg, Kentucky (AP photo)
Not since the beginning of the 1980s has the United States witnessed as large a labor strike in the oil business as now.
More than 5,400 workers at 11 oil refineries from the West Coast to the Midwest have walked off the job to protest what they say are unfair labor practices and dangerous working conditions.
"Management cannot continue to resist allowing workers a stronger voice on issues that could very well make the difference between life and death for too many of them," Leo W. Gerard, president of the United Steelworkers Union (USW), which organized the strike, said in a prepared statement.
The strike, the largest since 1980, has affected refineries in California, Indiana, Kentucky, Ohio, Texas and Washington.
The most recent walk-offs took place on Sunday when about 1,440 workers formed picket lines outside BP's facility in Whiting, Indiana and its joint-venture refinery with Husky Energy in Toledo, Ohio. It began when contract talks broke down between USW and Shell Oil.
So far, the nationwide strike has impacted 13% of the U.S. oil refining capacity, according to Ari Phillips at ThinkProgress. The union, meanwhile, is negotiating with 63 plants for a new national contract.
The local Toledo union released a statement saying that the "strike is NOT about money, this is about addressing safety issues that have been ignored for way too long … 138 workers were killed on the job while extracting, producing, or supporting oil and gas in 2012 … the number was more than double that of 2009."
Workers in the gas and oil industry are six times more likely to die on the job than other American workers, reported Phillips.
USW represents about 30,000 workers at more than 200 refineries, terminals, and pipelines across the country, according to ThinkProgress.
-Noel Brinkerhoff, Danny Biederman
To Learn More:
First Nationwide Oil Worker Strike In Decades Grows Even Bigger (by Ari Phillips, Climate Progress)
Union Says U.S. Refinery Strike Widened; Cites Unfair Labor Practices (Reuters)
Picketers Stationed outside BP-Husky (by Jane Schmucker and Tom Troy, The Blade)
Chevron Pays $350 Fine after Oil Worker Boiled to Death (by Noel Brinkerhoff, AllGov)