Small New York Village Alarmed by Contamination of Water Supply by Teflon-Maker's Toxic Chemicals
Monday, February 29, 2016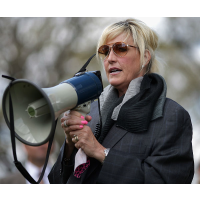 Erin Brockovich looked into Hoosick Falls water crisis (photo: Chip Somodevilla, Getty Images)
By Jesse Mckinley, New York Times
HOOSICK FALLS, N.Y. — One resident called 911 asking whether the village's water would burn his skin off. Families have lined up to have their blood drawn and their wells tested. Banks stopped giving out mortgages, and some local residents stopped washing their dishes, their clothes and themselves. Erin Brockovich has been to town.
Such are the unpleasant contours of a public health emergency that is playing out in Hoosick Falls, a quiet river-bend village near the New York-Vermont border that has been upended by disclosures that the public water supply was tainted with high levels of perfluorooctanoic acid, or PFOA, a toxic chemical linked in some studies to an increased risk for cancer, thyroid disease and serious complications during pregnancy.
Last week, a federal class-action lawsuit was filed against Saint-Gobain Performance Plastics and Honeywell International, the current and former owners of the plant that, according to the state, was the source of the PFOA contamination. The toxic chemical is associated with the making of Teflon, which was used in products manufactured at the plant.
After the revelation of lead contamination in Flint, Michigan, where Gov. Rick Snyder's response was widely criticized, the situation in Hoosick Falls has provoked both deep concern about water quality and a heightened scrutiny of how public officials have responded.
In New York, elements of the state's response have been repeatedly questioned. Nearly a year and a half passed, for instance, from the time the chemical was discovered in the water — by a concerned resident — to the warning from state health officials that residents avoid drinking it.
In the interim, state and local officials assured the public on several occasions that the water was safe — most recently in December, even after the federal Environmental Protection Agency had recommended to the village's mayor that residents avoid using Hoosick's well water. Gov. Andrew M. Cuomo and other officials have defended their response, saying they have acted as aggressively as possible with the information they have — noting shifting federal standards on the contaminant, which is as yet unregulated.
But many residents here believe the damage has already been done in Hoosick Falls, a village of 3,500 about 30 miles northeast of the state Capitol in Albany, whose previous claim to fame was as the resting place of Grandma Moses, whose bucolic, childlike images still adorn walls around town.
Now, however, the village's very name — pronounced who-sick — seems to be a cruel joke.
"I feel like we're a stigma," said Cindy Sprague, 67, a retired waitress who has lived here for more than 40 years. "And I feel like we're going to become a ghost town."
The situation in Hoosick Falls has led to heightened and some frightened awareness of PFOA and other potentially hazardous chemicals, with worries rippling out to neighboring towns, over state lines and across the nation. On Feb. 20, state officials announced that PFOA had also been found in the water in Petersburgh, New York, 10 miles south of Hoosick Falls. On Thursday, Gov. Peter Shumlin of Vermont announced that wells in North Bennington — just east of Hoosick Falls — had also tested positive for the chemical.
Across the nation, concern over contamination has risen in places like Seattle, where the city recently sued the agribusiness giant Monsanto over chemical pollution in the Duwamish River, and in Minnesota, where a state report issued last week found that up to 60 percent of groundwater samples from wells in the central part of the state had unsafe levels of nitrates. Polls show that nearly half of Americans are concerned about their water supply.
And if Flint is the national standard-bearer for water woes, Hoosick Falls seems to be a local surrogate: Last week, officials in Bethlehem, New York, a suburb of Albany, tried to tamp down fears about high levels of trihalomethanes, a common byproduct of chlorination in their water. "Current events in other communities, such as Hoosick Falls and Flint, Mich.," a statement read, "are very different."
Faced with the worst environmental crisis of Cuomo's 5-year-old administration, the Department of Health and the Department of Environmental Conservation have been constant presences in Hoosick Falls in recent weeks, testing villagers' blood and private wells for PFOA. The state has pledged $10 million to install new filtration systems for the village — using recently unlocked state Superfund money — and on Friday, officials announced that a temporary filtration system had been installed and that the village's water mains were being flushed.
"We've been very active in Hoosick Falls from Day 1," Cuomo, a Democrat, said Thursday.
According to documents and accounts posted on the village's website, state health officials were informed of possible contamination as far back as August 2014 but did not raise an alarm.
In January 2015 — shortly after samples from a village well came back showing levels of PFOA that exceeded a federal advisory — the state health agency told village officials the tainted water "does not constitute an immediate health hazard," referring to state standards for contaminants.
Testing of wells near the plant in the summer and fall of 2015 showed more troubling signs, including a sample at 45 times the recommended short-term exposure. Those tests helped prompt an EPA warning.
State officials still seemed cautious; in early December, the Department of Health put out a fact sheet saying "health effects are not expected to occur from normal use of the water," though it recommended that residents limit their exposure to PFOA.
Finally, after a public warning from the EPA in mid-December, a state Health Department spokesman said residents should rely on bottled water. In late January, Cuomo announced the state Superfund designation and ordered the classification of PFOA as hazardous.
In defending their response, state officials pointed out that in 2009, the EPA issued a provisional health advisory on PFOA, placing the safe level for drinking water at 400 parts per trillion. Just after the governor's announcement of a state Superfund in Hoosick Falls, the federal agency recommended a much lower level: 100 parts per trillion, a move an EPA spokeswoman, Mary Mears, said it made "out of an abundance of caution." That level could change again this spring, when the agency is expected to issue its guidelines on long-term exposure.
As of now, the EPA has said PFOA is known to cause developmental and other adverse effects in laboratory animals, but the agency has yet to determine if the chemical poses an unreasonable risk to the public.
Some local residents, however, have made up their own minds. "It's disgusting," said Kimberly Cooley, 46, who moved here in 2000. "They knew about in 2014, and nobody told us about it."
Like many here, Cooley said she had long been suspicious about the water, and the environment, in Hoosick Falls. Tales of strange-smelling tap water and river rocks coated in orange goo are traded around town, as are unsubstantiated suspicions about illegal dumping and runoff from landfill sites.
Anecdotal accounts of serious, sometimes mysterious illnesses are also common here. Cooley said that she had her thyroid removed in 2011 after developing cancer, and that she was watching anxiously as her 18-year-old son, Mitchell, has recently developed a lump in his upper chest.
"He's afraid," she said.
Hoosick Falls' association with plastics stems in large part from Dodge Industries, an Eisenhower-era company that produced a variety of Teflon products — fabric, foil, even yarn — in a plant near the edge of the Hoosic River.
For decades, the plant was a seemingly benign neighbor, providing good jobs in an area where factories closed more often than they opened. Local residents recall using large pieces of Teflon as sleds on snowy days, and playing on Little League fields just beyond the plant.
Today, however, the soil at those fields is being tested, even as a new filtration system is installed at the nearby water-treatment plant.
Since discovery of the contamination, Saint-Gobain has been paying for bottled water for the town — stacked high in the aisles of a local supermarket — as well as a new carbon-filtration system for the village, at an estimated cost of more than $3 million.
Dina Silver Pokedoff, a spokeswoman for Saint-Gobain, said the company was cooperating "with federal, state and local authorities to review all studies, analyze all options and focus on the most important goal: to ensure the people of Hoosick Falls have a safe and healthy place to call home."
The village's mayor, David Borge, said he was satisfied with the state's response to the crisis and defended his actions since the contamination became known.
"Nobody turned a blind eye, nobody was slow to the draw," said Borge, a retired New York state employee who has lived in Hoosick Falls for 31 years. "Once this was brought to our attention, we started researching, we talked to the Health Department, we said, 'What do we do?'"
"We are not going to become synonymous with disaster," he added.
Some in the village may dispute that assessment. The man credited with bringing the PFOA issue to light in Hoosick Falls, Michael Hickey, did so after his father, John, died of kidney cancer in 2013.
Shortly after that, Hickey said, he began to investigate PFOA. In his research, he found a report from a panel of scientists that investigated the chemical's impact in Ohio and West Virginia and identified a probable link with kidney cancer.
Later, Hickey tested water from his sink and his mother's house and sent them to a private lab in Canada for analysis.
"I was hoping to be able to dismiss it," said Hickey, 37, who lives in Hoosick Falls and works as an insurance underwriter in Albany. But both samples came back at levels higher than the EPA's safe level.
"I thought, 'We need to notify people,'" he said. "'This is really bad.'"