Should "Stand Your Ground" Laws Apply to Domestic Abuse Cases?
Thursday, October 16, 2014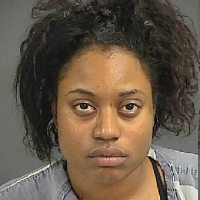 Whitlee Jones in police mug shot
Prosecutors in South Carolina have argued that the state's "stand your ground law" does not apply to victims of domestic violence who kill their attacker.
The case of Whitlee Jones has garnered national attention following attempts to prosecute her for stabbing her boyfriend to death.
Eric Lee was seen by witnesses pulling Jones down the street by her hair before he later blocked her attempt to flee their residence. Jones' attorney claims she attacked Lee with a knife only as a last resort, and that the state's stand-your-ground law (the Protection of Persons and Property Act) protects her from prosecution. A judge agreed with Jones.
But the state appealed the ruling, insisting the law was never intended to apply to people involved in domestic violence.
"(The Legislature's) intent ... was to provide law-abiding citizens greater protections from external threats in the form of intruders and attackers," Assistant Solicitor Culver Kidd, the case's lead prosecutor, told The Post and Courier. "We believe that applying the statute so that its reach into our homes and personal relationships is inconsistent with (its) wording and intent."
However, the legislator who introduced the law is pretty clear on the intent. Republican Rep. Murrell Smith told The Post and Courier that the legislature didn't discuss domestic violence when considering the bill, "but in the end," Smith said, "our purpose was that if you're presented with a perilous situation, you've got the right to use force."
Kidd and Solicitor Scarlett Wilson have asked state lawmakers to clarify the law to prevent defendants who attack those engaging in domestic violence from employing the law as part of their defense.
-Noel Brinkerhoff
To Learn More:
Charleston Prosecutors Challenge Use of 'Stand Your Ground' Law in Domestic Disputes at Home (by Andrew Knapp, Post and Courier)
South Carolina Prosecutors Say Stand Your Ground Doesn't Apply To Victims Of Domestic Violence (by Nicole Flatow, ThinkProgress)
Defendants who Claim Stand Your Ground Defense more likely to Win if Victim is Black (by Steve Straehley, AllGov)
Recent "Stand Your Ground" Laws Extend Justifiable Home Protection Violence into the Streets (by David Wallechinsky and Noel Brinkerhoff, AllGov)