Seven States Still Give Lifetime Food Stamp Bans to those Convicted for Drugs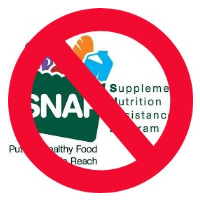 (photo illustration: Steve Straehley, AllGov)
When Congress in 1996 adopted sweeping welfare reform legislation, it barred individuals who had drug convictions from receiving welfare or food stamps.
The law allowed states to waive the restrictions, which many have done since then. But seven states still prohibit drug offenders from getting food stamps for the rest of their lives: Alaska, Arizona, Georgia, Mississippi, South Carolina, West Virginia and Wyoming.
All of those except Wyoming, plus Delaware, Illinois, Missouri, Nebraska, South Dakota, Texas and Virginia don't allow those with drug convictions to collect welfare.
Those laws make it likelier that a former inmate will end up back in prison. "This increases the odds they will commit new crimes by virtue of the fact that you're creating a significant financial obstacle," Mark Mauer, executive director of The Sentencing Project, told Pew Charitable Trusts' Stateline.
Since 1996, 19 states have lifted restrictions on food stamps, and 24 have allowed people with certain types of drug felonies to get those benefits, according to Stateline. Fifteen states have lifted the restriction on getting welfare, while 22 have some restrictions.
Texas is one of the latest states to lift blanket restrictions on those convicted of drug crimes receiving food stamps. "If we want people to stay out of trouble we've got to give them a hand up, not a foot down," state Rep. Senfronia Thompson, a Democrat who pushed for the repeal in Texas said, according to Stateline.
-Noel Brinkerhoff, Steve Straehley
To Learn More:
States Rethink Restrictions on Food Stamps, Welfare for Drug Felons (by Rebecca Beitsch, Stateline)
A Lifetime of Punishment: The Impact of the Felony Drug Ban on Welfare Benefits (The Sentencing Project)