Satanic Temple Invokes Supreme Court Ruling to Force Display at Florida Capitol Building
Saturday, December 20, 2014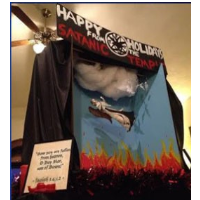 (photo: Satanic Temple)
Members of the Satanic Temple in Florida sought to put up a holiday display in the state Capitol Building this year as other religious and non-religious groups have done. But state officials denied the request by the temple, which is now citing a U.S. Supreme Court decision supported by five conservative justices to support its case.
Everything from nativity scenes to beer-can Festivus poles to plates of pasta from the Church of the Flying Spaghetti Monster have been displayed in the rotunda of the Florida Capitol Building during holiday time. But when the Satanists wanted to put up an angel being consumed by flames, the state Department of Management Services rejected the display, saying it was too offensive.
The unholy rollers claim Florida is denying them their constitutional rights under the First Amendment, citing the 1994 Supreme Court decision in Rosenberger v. University of Virginia, the upshot of which was the government cannot selectively choose from among religious-based efforts.
If the state of Florida is going to allow one religion in the door, it has to let them all in, regardless of the content, Mark Joseph Stern wrote at Slate.
The Satanic Temple has received backing in its case from Americans United for Separation of Church and State, which sent a letter to Florida officials saying the hellfire display should be featured.
And if Florida wants to plead that the Satanic Temple isn't sincere in its desire to have a holiday display, another decision written by conservatives will end that argument as well. In the Hobby Lobby decision, the court refused to consider whether the plaintiffs really believed that some forms of birth control cause abortion. They took them at their word, which could prove to be an embarrassing precedent for conservatives when the Satanists argue their case.
-Noel Brinkerhoff
To Learn More:
Devil's Advocates (by Mark Joseph Stern, Slate)
Letter Submitted in Support of Satanic Temple Capitol Display (by Karl Etters, Tallahassee Democrat)
Tennessee "Religious Antidiscrimination" Law Could Allow Students to Preach Satan Worship and Submit Psalms for Writing Assignments (by Noel Brinkerhoff, AllGov)