Revolving Door, Nuclear Power Edition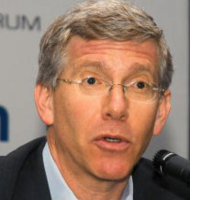 Daniel Poneman (photo: Jose Dominguez, AFP/Getty Images)
The former No. 2 official in the Department of Energy (DOE) has accepted a million-dollar job with a nuclear company, prompting criticism from good government advocates over the revolving door of officials taking lucrative deals after they leave government service.
Daniel Poneman was the Energy Department's second most powerful official for five years before he resigned last fall. He now will become the president and CEO of Centrus Energy Corporation, which previously operated as United States Enrichment Corporation (USEC). Centrus will pay Poneman $1.7 million a year.
Created by Congress in 1992 as a way of privatizing DOE's uranium enrichment operations, USEC had considerable dealings with DOE, receiving lucrative contracts and federal aid to produce enriched uranium for use in nuclear power plants. Since 2012 it has received more than $440 million from the U.S. Congress to keep it operational.
In early 2014 USEC filed for bankruptcy following the collapse of uranium prices in the wake of the 2011 Fukushima nuclear power plant disaster in Japan. In September, the company re-emerged as Centrus.
Poneman has said Centrus did not approach him until after he left DOE last October. He will be prevented for two years from having any contact with DOE, under the agency's ethic rules.
But that doesn't satisfy Tyson Slocum, director of Public Citizen's energy program. "[It's] one of the more problematic revolving-door issues that I can remember," he told Greenwire. "I'm not trying to disparage his character," he said of Poneman in an interview with Politico. "While there are obviously limits on his direct contact, when you're the CEO the entire company reports directly to you, so it presents a lot of problems given the entire business' orientation towards securing government support."
Ed Lyman, a senior scientist with the Union of Concerned Scientists, told Politico that the new job gives "the appearance" that it is "some sort of reward for the favorable treatment they were getting from DOE."
"DOE has long had an improper relationship with USEC," Sen. John Barrasso (R-Wyoming) wrote in a letter to Energy Secretary Ernest Moniz. "Mr. Poneman's appointment as President and CEO only promises to make that record worse."
The Government Accountability Office (GAO) claims the DOE has violated laws on national security and fair pricing in its dealings with Centrus, according to Greenwire. As Politico's Darius Dixon wrote, last year the GAO stated that Centrus's "'favorable arrangements with the U.S. government' have included 'advantageous' leases and freedom from nearly all environmental cleanup liabilities." Dixon added that the GAO's suggestions for revisiting certain legal aspects of the government's arrangement with Centrus "doesn't appear to have any momentum."
Although this latest revolving door episode has raised many an eyebrow, Centrus's support in Congress is likely to remain secure with two of the company's biggest fans: House Speaker John Boehner (R-Ohio) and Senate Majority Leader Mitch McConnell (R-Kentucky). The firm has operated plants in their home states.
-Danny Biederman, Noel Brinkerhoff
To Learn More:
Ex-Energy Official's $1.7 Million Gig Draws Fire (by Darius Dixon, Politico)
Former DOE Deputy To Lead Controversial Enrichment Company (by Hannah Northey, GreenWire)
Daniel Poneman Selected as Centrus President and CEO (Centrus Energy Corporation)