Report on Drugging of Guantánamo Prisoners Remains Classified after One Year
Thursday, September 16, 2010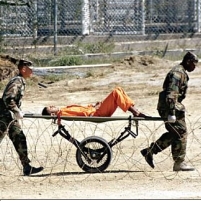 Investigators for the
Department of Defense
have, for the past year, been sitting on a controversial report about the drugging of detainees at Guantánamo and other facilities. The report by the Pentagon's
inspector general
was completed in September 2009 and shared with members of the
Senate Armed Services Committee
, but has remained classified.
Truthout recently submitted a Freedom of Information Act request to obtain a copy of the report, but was told the IG's office may not be able to comply within the required 20-day period due to "unusual circumstances which may impact on our ability to quickly process your request."
The investigation was prompted after media stories in Congressional Quarterly and The Washington Post revealed accusations by detainees that they had been drugged with hallucinogens, such as LSD and PCP, as part of their interrogations. The involuntary use of drugs on prisoners could constitute a violation of both domestic and international laws.
-Noel Brinkerhoff