Repeal of Arizona Abortion Law Forcing Doctors to Lie to Patients Leads to Dropping of Lawsuit
Thursday, August 25, 2016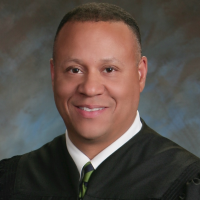 Judge Steve Logan
By Jamie Ross, Courthouse News Service
PHOENIX (CN) — A federal judge tossed a lawsuit (pdf) Monday over a controversial Arizona law that would have forced doctors to tell patients that a medication abortion can be reversed, after state lawmakers agreed to repeal the law.
U.S. District Judge Steven Logan dismissed (pdf) the lawsuit, filed in June 2015, which claimed that Senate Bill 1318 required doctors tell their patients the lie that medication abortion could be reversed.
"The reversal of this unjustified restriction is good news for women, but it shouldn't have taken a year in court to convince Arizona politicians to keep junk science out of the exam room," Andrew Beck, staff attorney at the ACLU's Reproductive Freedom Project, said in a statement. "Lawmakers should recognize that Arizona women deserve high-quality medical care — not political ideology masquerading as medicine."
The measure, signed into law by Gov. Doug Ducey in March 2015, required medical professionals to tell a woman who seeks a medication abortion within 24 hours of the procedure that it may be possible to reverse the effects. Ducey, a Republican and a Catholic, has said he is "proudly pro-life."
"The more than 100 children alive today due to the abortion pill reversal stand as a living testimony to the importance of SB 1318," the Center for Arizona Policy, a conservative group that supported the law, said in a statement after its passage. "Women who have begun a chemical abortion process and change their minds, for whatever reason, should not have their baby stolen from them because Planned Parenthood, or any abortionist, withheld potentially life-saving facts."
Dr. Ilana Addis, chairwoman of the Arizona section of the American Congress of Obstetricians and Gynecologists, testified before the bill was passed that there was no evidence to support that claim.
"We like to practice medicine that is evidenced-based, and unfortunately the protocol that has been suggested for reversing a medication abortion has no evidence to support it," Addis said.
The lawsuit, filed by Planned Parenthood, three doctors and a family-planning clinic, claimed the law forced them "against their medical judgment and in violation of medical ethics, to convey to their patients a state-mandated message that is not medically or scientifically supported and that is antithetical to the purpose of informed consent."
Logan temporarily blocked the law this past October after the parties stipulated that "physicians and other designated health care professionals ... are not required to comply with the act pending final judgment on the merits."
The Arizona Legislature passed a measure in May, Senate Bill 1112, to repeal the law.
"This reckless law was a prescription for bad medicine and government interference at its worst. This is exactly why politicians need to leave the practice of medicine to medical professionals," Bryan Howard, president of Planned Parenthood Arizona, said in a statement. "We will never stop fighting for our patients and every person's right to accurate medical information and safe, compassionate care."
To Learn More:
Planned Parenthood Arizona, et al., vs. Mark Brnovich, et al. (U.S. District Court, Arizona) (pdf)
Arizona Requires Doctors to Tell Patients Drug-Induced Abortion is Reversible…Despite Medical Evidence (by Noel Brinkerhoff and Steve Straehley, AllGov)
Federal Court Approves Doctors Telling Patients that Abortion Can Lead to Suicide (by Noel Brinkerhoff, AllGov)