Remember Tamiflu? Big Profits for Roche, but Little Help for Users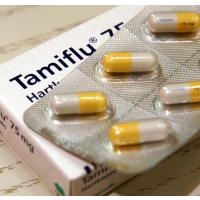 (AP photo)
Governments spent heavily on Tamiflu starting last decade when public health officials warned of deadly influenzas. But the billion-dollar investment produced only healthy outcomes for the balance sheets of the drug's manufacturer, Roche.
This conclusion was reached by British researchers who said they could not substantiate claims by Roche and GlaxoSmithKline (which makes a rival flu drug) Relenza, that their products helped people fight off flu effects.
The British government—anticipating the potential death of 750,000 of its citizens in the event of a bird flu outbreak—spent more than $700 million stockpiling 40 million doses of Tamiflu, while the U.S. government forked out $1.3 billion on a massive antiviral reserve that includes the drug. Tamiflu is also listed by the World Health Organization as an "essential medicine." Yet the researchers found few if any benefits from the two drugs and, in fact, discovered that they produce negative side effects ("psychiatric…renal…and metabolic adverse events") which were previously dismissed or never acknowledged.
All the money spent by governments around the world on those stockpiles "have been thrown down the drain," Carl Heneghan, a lead investigator of the study and a professor of evidence-based medicine at Britain's Oxford University, told Reuters. This is because accurate data about the drugs has long been withheld from government regulators, the medical community and the public.
Five years ago, Tamiflu sales reached nearly $3 billion, in large part because of the H1N1 flu pandemic scare. The Cochrane Collaboration and the British Medical Journal fought for four years to gain access to Roche's Tamiflu data. Once they succeeded, they conducted a joint analysis.
Roche officials dismissed the researchers' findings, saying the drug firm "fundamentally disagrees with the overall conclusions" of the study.
"We firmly stand by the quality and integrity of our data, reflected in decisions reached by 100 regulators across the world and subsequent real-world evidence demonstrating that Tamiflu is an effective medicine in the treatment and prevention of influenza," the company said in a prepared statement.
"Remember, the idea of a drug is that the benefits should exceed the harms," noted Heneghan. "So if you can't find any benefits, that accentuates the harms."
"Why did no-one else demand this level of scrutiny before spending such huge sums on one drug?" Journal editor Fiona Godlee said to Reuters. "The whole story gives an extraordinary picture of the entrenched flaws in the current system of drug regulation and drug evaluation."
- Danny Biederman, Noel Brinkerhoff
To Learn More:
Researchers, Regulators and Roche row over Stockpiled Drug Tamiflu (by Kate Kelland, Reuters)
Tamiflu: Millions Wasted on Flu Drug, Claims Major Report (by James Gallagher, BBC News)
Neuraminidase Inhibitors for Preventing and Treating Influenza in Healthy Adults and Children (by Tom Jefferson, Mark A. Jones, Peter Doshi, Chris B. Del Mar, Rokuro Hama, Matthew J. Thompson, Elizabeth A. Spencer, Igho Onakpoya, Kamal R. Mahtani, David Nunan, Jeremy Howick, and Carl J. Heneghan; Cochrane Review) (abstract)
Swine Flu Stirred Profits, but Fewer Deaths than Predicted (by Noel Brinkerhoff, AllGov)
Profiting from Swine Flu (by Noel Brinkerhoff, AllGov)