Regulators Accused of Ignoring Bacterial Buildup in Washington, D.C., Waterways for 20 Years
Wednesday, August 17, 2016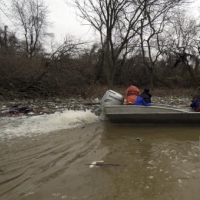 Polluted Onion Cove along the Potomac (photo: Douglas Graham, Getty Images)
By Daniel W. Staples, Courthouse News Service
WASHINGTON (CN) — Regulators have failed after 20 years to take action against fecal bacteria that makes Washington, D.C.'s waterways unsafe for human recreation, three groups say in a federal complaint.
"Particularly after rain storms, fecal bacteria levels in the waters in Washington, D.C., rise high," the Aug. 15 complaint states. "Though water quality standards require the Potomac and Anacostia River, as well as other waters like Rock Creek, to be safely usable for swimming, kayaking, rowing, and wading, it is highly dangerous to do so when there is a spike in fecal bacteria levels."
Anacostia Riverkeeper is the lead plaintiff behind Monday's lawsuit, joined by the Kingman Park Civic Association and the Potomac Riverkeeper Network.
They say the district first recognized in 1996 that its surface waters were unsuitable for human-contact recreation because of dangerous concentrations of fecal bacteria. The fecal bacteria at issue in the complaint is E. coli.
"Today, due in large part to the regular and ongoing presence of high fecal bacteria concentrations, none of these waters meet the district's water quality standards for the protection of human health," the complaint states.
The groups say even brief exposures to feces-tainted water — as might happen if splashed in the face — can cause a wide range of illnesses like gastroenteritis, earaches, pink eye and skin infections.
They note that it took a lawsuit back in the 1990s for district to adopt water-quality standards that set total maximum daily loads for E. coli.
That initial effort was insufficient, however, according to the complaint, because "the 2004 bacteria TMDLs contained only average annual loads rather than daily loads."
Anacostia Riverkeeper and the other groups say more recent efforts are still too vague. When a scenic kayak ride can last under an hour, the need for precision is paramount, according to the complaint.
"EPA has acknowledged that short-term spikes in bacteria concentrations that significantly increase the chances of human illness can occur without causing an exceedance of the 30-day geometric mean criterion," the complaint states.
"Despite this, the TMDLs do not include wasteload allocations calculated to attain the district's single sample value criterion."
Precipitation is the driving source behind bacteria spikes, the complaint says, noting that the district MS4 sewer system collects contaminants like pet waste and discharges them "directly into streams via hundreds of outfalls located throughout the district."
"Such precipitation events also cause untreated human waste flushed from office and residential buildings to be discharged directly into streams through a series of combined sewer outfalls located within the Anacostia River, Potomac River, and Rock Creek watersheds," the complaint states.
Environmentalists also note that the associated combined sewer overflow system moreover is connected with Blue Plains water-treatment plant.
"Because periods of prolonged or intense precipitation in the district largely coincide with the outdoor recreational season, district residents and visitors are frequently at risk of moderate to severe illness when they use and enjoy the district's waters for kayaking, canoeing, and other such popular aquatic recreational activities," the complaint states.
Jennifer Chavez, a staff attorney with Earthjustice Washington, represents the plaintiff groups. She said in a statement that inadequate pollution caps violate water-quality standards and "people at risk of serious illness."
"Residents and visitors to the nation's capital deserve better," Chavez added.
A spokesman for the EPA has not returned a request for comment on the suit.
The environmental groups want the EPA's current standards tossed and new standards drafted within a year.
To Learn More:
Anacostia Riverkeeper, et al., v. Gina McCarthy and EPA (U.S. District Court, District of Columbia)