Proposal for Medicare Drug Coverage Limitations Opposed by Unlikely Alliance
Wednesday, February 26, 2014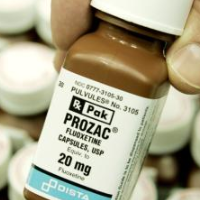 (AP photo)
The Obama administration's plan to curb drug coverage for Medicare patients is proving very unpopular with interests who normally don't see eye-to-eye.
Usually in such debates, pharmaceutical manufacturers and patient advocates are battling against one another.
But that's not the case with the administration's call for limiting Medicare's Part D coverage for certain types of drugs, including some that are widely used.
The medications in question fall into one of three categories: immunosuppressants needed for organ transplants, antidepressants and antipsychotic medicines.
Specific drugs that could be affected include Wellbutrin, Paxil and Prozac (prescribed for depression), and Abilify and Seroquel (used to treat schizophrenia).
Administration officials say the policy change is necessary to bring down the cost of drugs, which have been inflated by insurance companies' inability to negotiate lower prices with pharma companies. Officials also say their plan will result in a reduction of the drugs' overuse.
But a coalition of drug makers and patient advocates, plus Democrats and Republicans in Congress, argue the change will only hurt patients if the reduced coverage rules go into effect.
"We've been scratching our heads over this," John J. Castellani, chief executive of the Pharmaceutical Research and Manufacturers of America (PhRMA), the drug-industry's chief lobbying group, told The New York Times. "Why is the administration trying to make such extensive changes to a program that isn't broken?"
PhRMA along with more than 200 groups signed a letter (pdf) asking the administration to drop the idea.
Members of Congress are looking into the issue, with a House subcommittee planning to hold a hearing on the proposal this week.
-Noel Brinkerhoff
To Learn More:
Plan to Limit Some Drugs in Medicare Is Criticized (by Katie Thomas and Robert Pear, New York Times)
Medicare Program; Contract Year 2015 Policy and Technical Changes to the Medicare Advantage and the Medicare Prescription Drug Benefit Programs; Proposed Rule (Federal Register) (pdf)
Billions Wasted as Medicare Turns Blind Eye to Excessive Brand-Name Drug Prescriptions (by Noel Brinkerhoff and Danny Biederman, AllGov)
Medicare Drug Program Fails to Monitor Prescription Safety (by Noel Brinkerhoff, AllGov)