Prisoners in Mississippi Private Prisons Spend more time Locked up than those in Regular Prisons for Same Crimes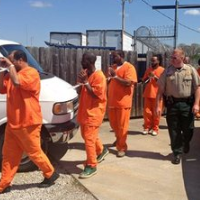 Inmates at privately-run Marshall County (Miss.) Correctional Facility (AP Photo/Courtesy WMCTV)
States are turning to privately-run prisons to incarcerate inmates in the belief that they're saving money by doing so. And those prisons do cost less per day to keep an inmate. But a new study has found that prisoners spend longer in private prisons, negating at least some of the cost savings.
Anita Mukherjee, an assistant professor at the University of Wisconsin-Madison School of Business, compared time served by Mississippi inmates in state-run prisons with the time spent in privately-run facilities. She found that inmates in private prisons spent 4% to 7% longer incarcerated after accounting for type of crime and length of original sentence. That amounted to 60 to 90 days longer for the average inmate.
Private prisons can offer what appear to be cheaper alternatives to state-run prisons, mainly because their labor costs are lower. In Mississippi, private prison guards earn about $35,000 a year, about $15,000 less than those employed by the state.
Private prisons are paid by states on a per-diem basis, meaning a set amount for each day a prisoner is incarcerated. That means the corporations running the prisons are incentivized to keep prisoners longer. This is accomplished by increasing the number of infractions per inmate, enabling time to be added to a sentence, time off for good behavior to be reduced or to cause a parole board to extend an inmate's sentence.
Forty-seven percent of those in private prisons, Mukherjee found, were found to have committed infractions, compared to 18% of those in public prisons. She says this held for prisoners in every demographic, offense and sentence category.
"The number of days a prisoner serves relates directly to the cost of housing that inmate," Mukherjee said in a release. "So if inmates sent to private prisons somehow serve longer terms, this undermines the very cost benefit that makes private prisons attractive relative to public prisons."
-Steve Straehley
To Learn More:
Do Private Prisons Distort Justice? Evidence on Time Served and Recidivism (by Anita Mukherjee, University of Wisconsin-Madison)
UW Study Finds That Inmates Have Longer Stays In Private Prisons (by Steven Elbow, Madison Capital Times)