Predatory Loan Companies Use Loopholes to Suck High Interest Rates from Military Families
Thursday, January 01, 2015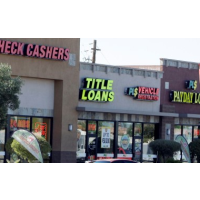 (photo: Ross D. Franklin, AP)
The Military Lending Act of 2006 was intended to protect military members and their families from being gouged by lenders offering payday and auto title loans. But it contained several loopholes that opened the way for predatory loan providers to charge military families more than the 36% interest allowed by law.
"The current rules under the Military Lending Act are akin to sending a soldier into battle with a flak jacket but no helmet. To give our troops full-cover protection, the rules need to be expanded," Richard Cordray, director of the Consumer Financial Protection Bureau (CFPB), said in a press release. The bureau has endorsed proposed changes to the law offered by the Department of Defense to close the loopholes and shield the "military from high-cost credit products."
Cordray pointed out several ways predatory lenders have taken advantage of the poorly crafted law. The Military Lending Act only applies to "three narrowly defined consumer credit products: closed-end payday loans for no more than $2,000 and with terms of 91 days or fewer; closed-end auto title loans with terms of 181 days or fewer; and closed-end tax refund anticipation loans."
Lenders can easily charge customers more than 36% interest by offering different terms than those proscribed in the law. Payday loan terms are made to exceed the 91-day limit, allowing lenders to charge higher interest rates.
The CFPB is proposing that the caps on payday loan amounts, term lengths for payday and auto title loans be removed and that open-ended loans, such as lines of credit, be covered under the interest-rate caps.
-Noel Brinkerhoff
To Learn More:
CFPB Report Finds Loopholes In Military Lending Act Rules Rack Up Costs For Servicemembers (Consumer Financial Protection Bureau)
The Extension of High-Cost Credit to Servicemembers and Their Families (Consumer Financial Protection Bureau) (pdf)
Members of U.S. Military Subjected to Aggressive Collection Tactics of Litigious Loan Operation (by Noel Brinkerhoff and Steve Straehley, AllGov)