Personal Safety behind Increase in Gun Owners' Preference for Hand Guns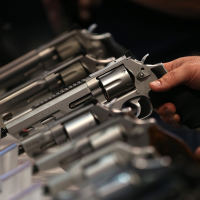 (photo Justin Sullivan, Getty Images)
By Julie Turkewitz and Troy Griggs, New York Times
A new study (pdf) of gun ownership in the United States notes a shift: Americans are increasingly interested in handguns, the types of small weapons that are easily hidden and used for self-defense, rather than rifles and shotguns used for hunting and shooting sports.
The study, conducted in 2015 by researchers from Harvard and Northeastern universities, sought to better understand the size and composition of the country's gun inventory. It found that handguns made up 42 percent of the country's privately owned firearms, up from 34 percent in 1994.
— Protection is now driving America's gun habits.
Beth Alcazar, a mother in Alabama, carries two handguns nearly all the time, a practice she began in 2014. Often, she wakes up, slips one in a purse and the other in a belly band, and heads out for the day's errands.
Alcazar, 41, lives in a suburb called Chelsea and has little interest in hunting. Her primary reason for carrying? Protection. "I have three very important reasons why I carry a gun," she said in a recent interview. "And those are my children."
The survey indicates that a growing number of gun owners are like Alcazar — they cite personal safety as a major incentive for owning a gun. In 1994, 46 percent of respondents chose protection as the primary reason to own a gun. Two decades later, 63 percent of respondents made that selection. (In the first survey, participants could select just one reason for ownership. In the second, they could choose several.)
The shift comes at a time of conflicting narratives about gun violence in America. During the past 25 years, violent crime has decreased dramatically in the United States. But the number of mass shootings per year has surged, according to the FBI.
Applications for concealed-carry permits have hit records in some places, giving rise to a group of people who consider themselves part of a concealed-carry lifestyle. Alcazar, who bought a gun in 2013 after an armed man took five girls hostage at her daughter's middle school, counts herself among them. The episode pushed her to become a firearms instructor and focus her writing career on guns. She now runs an Alabama chapter of the Well Armed Woman, a national network of gun owners, and contributes to Concealed Carry Magazine.
"It was a fire that sparked within me," she said of the hostage situation. "Oh, my God, this is six miles from my home, these are my children. And I need to know everything I can about protecting them."
— The number of guns is still rising.
While the percentage of households with guns has declined to 22 percent from 25 percent, the net numbers of guns and gun owners have gone up. In 1994, about 44 million Americans owned 192 million guns. Today, about 55 million Americans own 265 million guns.
The 2015 study also revealed that many of America's guns were concentrated in a small number of hands. About half of the nation's guns are owned by 3 percent of the population.
The demographic profile of these super-collectors has changed little since the last significant study. Most are male, white, older than 30, from rural areas and have an annual income above $25,000.
— Who owns the handguns?
Academics and others watching the gun industry cite a number of reasons for the shift to handguns. A 24-hour news cycle has made the world feel more dangerous. A declining rural population and waning interest in hunting have pushed gun companies to look for new customers. Industry groups have heavily marketed the idea of concealed carry and personal protection.
The authors of the 2015 survey, however, caution that several studies show that owning guns does not make people safer.
Two widely cited examinations, published in 1992 and 1993 in The New England Journal of Medicine, found that people who kept guns in the home faced a 2.7-fold greater risk of homicide and a 4.8-fold greater risk of suicide.
"On average, the gun imperils everyone in the home more than it protects them," said Matthew Miller, a professor at Northeastern University and an author of the 2015 study. "If you can get people to understand the risk that they are assuming and imposing on people in their home, you can actually save lives."
The survey polled 4,000 people across the country and will be published in 2017. Authors provided an advance copy to The New York Times and other outlets.
To Learn More:
The Stock and Flow of US Firearms (by Deborah Azrael, PhD, Lisa Hepburn, PhD, David Hemenway, PhD and Matthew Miller, MD, MPH, ScD) (pdf)