Pennsylvania Republicans Protect Suburbs from Fracking, but Give Go-Ahead in Rural Counties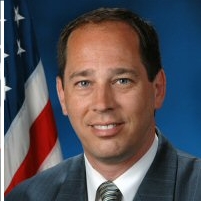 Joseph Scarnati III
In the ongoing fight between the energy companies that want to drill for natural gas via hydraulic fracturing, or "fracking," and the environmental activists warning of the technology's dangers, the Republican-dominated Pennsylvania state legislature last week came up with a novel sort of "compromise": allow fracking and its consequences statewide, except for the Philadelphia suburbs in the southeastern corner of the state where its wealthiest residents live.
In fracking, energy companies use powerful pumps to force a pressurized mix of water and chemicals into deep layers of rock like shale, causing fractures, which allow the extraction of otherwise unavailable natural gas. Although the mix is about 99% water, the remaining 1% includes highly toxic chemicals, including methanol, hydrofluoric acid, sulfuric acid and formaldehyde.
Fracking, which has been going on in Pennsylvania for about a decade, has already caused serious environmental problems there, most notably in Dimock Township, where fracking operations that began in 2006 have contaminated the water so badly that the U.S. Environmental Protection Agency (EPA) has been supplying clean water to residents at taxpayer expense.
The story behind Pennsylvania's nakedly biased new law starts in 2011, when Governor Tom Corbett
declared
he wanted to "make Pennsylvania the hub of this [fracking] boom." Corbett pushed for enactment of the highly-controversial
Act 13
, which strips cities and counties of any power to regulate fracking.
Critics charge that campaign contributions from persons and PACs associated with the natural gas industry were behind Republican support for the bill. According to
Marcellus Money
, Corbett had taken more than $1.6 million in contributions from the natural gas industry. Other leading Pennsylvania Republicans feeding at the fracking trough include
Rep. Brian L. Ellis
, sponsor of the House bill, who took $23,300; and
Sen. Joseph B. Scarnati III
, the senate president pro-temp who sponsored the companion Senate bill, who took $293,334.
Rep. Dave Reed
, chair of the majority policy committee, received $105,732, while
Rep. Mike Turzai
, majority floor leader, got $79,100. Of the 20 Pennsylvania legislators who received the most money from the industry in the past decade, 16 are Republicans.
Faced with widespread opposition to fracking, especially in the affluent Philadelphia suburbs of Berks, Bucks and Montgomery counties, and with less than a week before the 2011–2012 fiscal year budget was scheduled to expire, Republican
State Sen. Charles T. McIlhinney
, who represents parts of Bucks and Montgomery counties, slipped an amendment into the 2012–2013 proposed budget to ban natural gas drilling in all three counties for up to six years. McIlhinney claimed that legislators didn't know there was gas underneath the area, but energy companies have been active there for years, and the United States Geological Survey recently
estimated
that the area, which includes the
South Newark Basin
, could provide at least 360 billion cubic feet of natural gas.
Even if legislators like McIlhinney were unaware of the potential for fracking in the Philadelphia suburbs when they voted for Act 13, and now believe, as McIlhinney
says
, that "We need to slow this down until we can do a study on it," that does not explain the selective nature of the newly carved out exemption. Jordan Yeager, an attorney for Nockamixon Township in Bucks County, argues that "If we recognize that it needs more study here in order to feel comfortable that we're doing it safely, we ought to recognize that it needs more study in the rest of the state, as well."
As it stands, however, the Republican majority in Harrisburg is on record as willing to expose rural Pennsylvanians to the effects of fracking, even as they urge studies of how the technology might harm the affluent Philadelphia suburbs.
-Matt Bewig
To Learn More: