Pennsylvania District Allows Advertising in Public Schools
Wednesday, October 19, 2011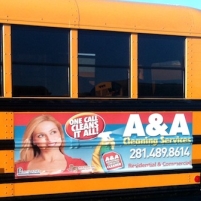 (photo: Alpha Media)
Short on revenues and wanting to avoid program cuts, officials with Bucks County's
Pennsbury School District
in southeastern Pennsylvania have decided to allow marketers to post large print advertisements in K-12 schools.
The advertising initiative is the first of its kind in the Philadelphia area, and perhaps even the state. It is expected to boost the school district's budget by as much as $424,000.
"It's imperative we find alternate means to preserve our programs," Assistant Superintendent W. David Bowman told the Philadelphia Inquirer, adding that the district prefers to boost revenues rather than cut programs, increase class sizes or raise taxes.
Some of the ads on school walls are as large as five feet by ten feet. Content is limited to messaging related to health, education, nutrition or student safety. The marketing also cannot directly endorse products.
One ad paid for by the
Library of Congress
and the Ad Council promoted reading and outdoor activities, while another from Post-it Notes touted the importance of organizational skills.
Since late 2009, Orange County, Florida, has been selling advertising at sports events and even on the school lunch menu. Half of the ad revenue has come from colleges and the military, while theme parks accounted for 22% and banks and financial institutions 15%.
Even before the Florida experiment, in March 2009, Jeb Harrison, a social studies teacher in Pocatello, Idaho, cut a deal with a local pizzeria to buy 10,000 pieces of paper with a pizza ad on the bottom to be used for tests and other purposes.
-Noel Brinkerhoff, David Wallechinsky