Paul, Chafee and Webb are most Marijuana-Friendly Presidential Candidates; Christie most Hostile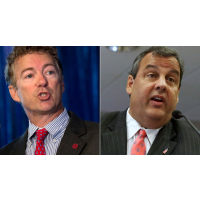 Rand Paul earned an "A" and Chris Christie an "F" from marijuana advocates (AP photos)
With legal marijuana now the fastest-growing industry in the United States, it is only fitting for someone to grade the current group of presidential candidates on their pot platforms.
The Marijuana Policy Project (MPP), a pro-legalization advocacy group, has put out a voter's guide to the 2016 presidential race which shows the most marijuana-friendly candidate so far is Republican Senator Rand Paul of Kentucky. Paul, whose GOP philosophy contains streaks of libertarianism, got an "A" grade for his support of states to establish their own marijuana policies. He also backs the decriminalization of small-quantity pot possession.
Lincoln Chafee, the Democratic former governor of Rhode Island, got a B+ for signing a marijuana decriminalization bill in 2013. He has also indicated he might support regulating and taxing marijuana, but seems more inclined to wait and allow states to address the issue.
Former Virginia governor James Webb also received a B+. The Democrat has voiced support for the decriminalization of pot and has been critical of the war on drugs.
Bernie Sanders, the independent senator from Vermont, earned a grade B. Also a critic of the war on drugs, Sanders hasn't supported legalization but is in favor of marijuana's medicinal use. He said he is keeping an eye on how things play out in Colorado, where it is legal, before he fine-tunes his opinion.
Democratic frontrunner Hillary Clinton only got a B-. She has expressed support for Colorado and Washington's decision to legalize pot, but hasn't taken a position overall on the decriminalization issue.
Former Florida governor and reformed pot smoker Jeb Bush got hit with a D for outright opposing marijuana use for any purpose, though he thinks that states should be allowed to establish their own policies for the drug.
The candidates receiving the lowest grade were Republicans Chris Christie of New Jersey and Rick Santorum of Pennsylvania. Both got an F. Christie opposes marijuana legalization and has criticized states that have gone this route. He also opposed the New Jersey medical marijuana law and said that he would restore federal prosecution of Colorado pot smokers. Santorum opposes all marijuana legalization, even for medical purposes.
"Some of these guys who tout states' rights, fiscal responsibility, and getting the government out of people's private lives want to use federal tax dollars to punish adults for using marijuana in states that have made it legal," MPP spokesperson Mason Tvert told AlterNet. "They say using marijuana is immoral or just too dangerous to allow, but serve alcohol, a more dangerous substance, at their fundraisers. The hypocrisy is astonishing."
-Noel Brinkerhoff, Danny Biederman
To Learn More:
Presidential Candidates Get Graded on Marijuana: Guess Who Passed and Who Failed? (by Phillip Smith, AlterNet)
Legal Marijuana: Where The 2016 Presidential Candidates Stand (by Sam Brasch, Colorado Public Radio)
What Do the 2016 Presidential Candidates Think About Cannabis? (by Lisa Rough, Leafly)
"Libertarian" Rand Paul Supports Bill Forcing Federal Government to Arrest Marijuana Users (by Steve Straehley, AllGov)