Organic Food Groups Sue Dept. of Agriculture for Lowering Standard for Including Non-Organic Materials in Foods Labeled Organic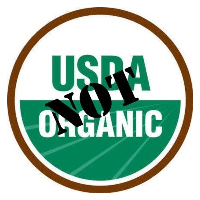 (graphic: Steve Straehley, AllGov)
The organic food industry is suing the Department of Agriculture (USDA) for relaxing regulations on what may go into foods labeled organic.
There are some non-organic ingredients allowed in foods labeled organic. These are permitted because they are judged to be not harmful and there are no organic alternatives. Those ingredients are removed from the list after five years unless the National Organic Standards Board votes to retain them. But USDA changed its policy in 2013, allowing such ingredients to remain on the National List of Allowed and Prohibited Substances unless the board specifically votes to remove them.
The Center for Food Safety and others are now suing (pdf) USDA for adopting the rule change without input from the public. "The voice of the organic community is taken away and weakened by this new rule," Center for Food Safety attorney Sylvia Wu told Courthouse News Service. The organic food industry says the new system is more likely to keep non-organic ingredients in foods. "It decreases the pressure on the organic community to find organic and nonharmful substitutes," Wu said.
The USDA claims the new system, which resulted from changes it made to the 1990 Organic Foods Production Act, will increase accountability "These reforms help protect organic farmers and consumers by ensuring that any changes to organic rules, including adding to or subtracting items from the list of approved synthetic materials, are only made with a strong majority of the board," a USDA spokesman said in a statement. "We also increased public engagement and transparency, allowing more opportunity for public comment."
But the organic food industry, whose success hinges on consumers' trust in their products, isn't buying it. "We are filing this lawsuit today because we are deeply concerned that the organic decision making process is being undermined by USDA," reads a statement on the Center for Food Safety website. "The complaint challenges the unilateral agency action on the sunset procedure for synthetic materials review, which represents a dramatic departure from the organic community's commitment to an open and fair decision making process, subject to public input. Legally, the agency's decision represents a rule change and therefore must be subject to public comment. But equally important, it is a departure from the public process that we have built as a community."
The plaintiffs in the lawsuit include a coalition of 15 environmental, certification, consumer and organic food producer organizations.
-Steve Straehley
To Learn More:
Groups Challenge Major USDA Change to Organic Rule (Center for Food Safety)
New Rules on Organic Foods Challenged (by Arvin Temkar, Courthouse News Service)
Center for Food Safety, et al, vs. Secretary of Agriculture Tom Vilsack, et al (U.S. District Court for Northern District of California) (pdf)
Federal Government Allows more than 250 Nonorganic Substances to be Added to "Organic" Foods (by Noel Brinkerhoff and David Wallechinsky, AllGov)