Oklahoma House Passes Bill to Legalize Same-Sex Marriage, but also to Protect County Clerks from Issuing Marriage Licenses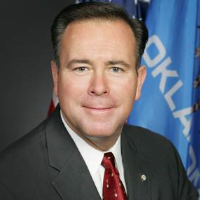 State Rep. Todd Russ (photo: Oklahoma Legislature)
The Oklahoma House of Representatives has approved legislation abolishing state marriage licenses in a move that simultaneously helps and hurts homosexuals seeking to get married in the conservative state.
Passed by more than two-thirds of the House members who voted on it, HB 1125 has been characterized by supporters as an attempt to protect county clerks who are opposed to gay marriage from having to issue licenses to same-sex couples.
In October, the U.S. Supreme Court let a lower court ruling stand, thereby effectively clearing the way for legalized gay marriage in Oklahoma. State Democrats view the House bill as an effort to disrupt that ruling by hindering homosexuals from trying to get married.
If HB 1125 becomes law (it still must clear the Senate), clergy performing marriages would have to sign marriage certificates and file with them with court clerks.
"The point of my legislation is to take the state out of the process and leave marriage in the hands of the clergy," Republican state Representative Todd Russ, the bill's author and an Assemblies of God minister, told The Oklahoman. "Marriage was historically a religious covenant first and a government-recognized contract second. Under my bill, the state is not allowing or disallowing same-sex marriage. It is simply leaving it up to the clergy."
The bill "takes them [county clerks] out of the trap" of being involved with gay marriages, Russ told Tulsa World.
In spite of their opposition to the bill, Democrats contend the legislation also firmly establishes the legality of same sex marriages, even if the U.S. Supreme Court were to reverse itself and allow state bans on them.
However, some gay rights advocates object to HB 1125.
"This legislation puts all couples who plan to marry in Oklahoma at risk of being denied hundreds of federal legal rights and protections, if it were to become law," Troy Stevenson, executive director of Freedom Oklahoma, told The Oklahoman. "The federal government and other states will not be required to acknowledge these proposed 'marriage certificates.' This legislation will only result in mass confusion from clerks' offices to courtrooms around the nation — while putting Oklahoma families at risk."
A number of other bills are in the works in the state legislature designed to counter or undermine the 2014 court ruling.
-Noel Brinkerhoff
To Learn More:
Oklahoma Advances Bill to End Government Role in Marriage (by Trudy Ring, The Advocate)
Oklahoma House Votes To Do Away With State Marriage Licenses (by Randy Krehbiel, Tulsa World)
House Passes Bill To Abolish Oklahoma Marriage Licenses (by Randy Ellis, The Oklahoman)
HB 1125 (Oklahoma State Legislature)