Ohio Tops Nation in Opioid Deaths
Sunday, December 04, 2016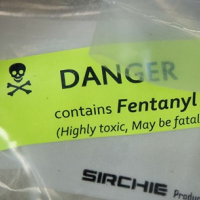 (photo: Drew Angerer, Getty Images)
By Chris Stewart, New York Times
DAYTON, Ohio -- More people died of opioid overdose deaths in Ohio during 2014 than any other state, providing further proof that Ohio is the epicenter of an opioid epidemic ravaging the nation.
Of the country's 28,647 overdose deaths in 2014 attributed to opioids, Ohio's 2,106 accounted for 7.4 percent of the U.S. total, according to a study by The Henry J. Kaiser Family Foundation.
California, with more than three times Ohio's population, ranked second with 2,024 opioid deaths, followed by New York with 1,739, according to the report combing data from the Centers for Disease Control and Prevention for all 50 states and the District of Columbia.
Ohio led all states in both heroin deaths (1,208) -- more than 1 in 10 nationwide -- and those from synthetic opioids such as fentanyl and carfentanil (590). The remaining deaths came primarily from the misuse of prescription painkillers.
And it appears doubtful Ohio will relinquish the grim standing soon, said Helen Jones-Kelley, executive director of the Alcohol, Drug Addiction and Mental Health Services (ADAMHS) board of Montgomery County.
As bad as the 2014 numbers were, the 2015 numbers were worse.
"We still have not peaked yet," Jones-Kelley said. "That's the scariest part."
Although it is not part of the report, opioid deaths in Ohio jumped 23 percent last year to 2,590, according to the Ohio Department of Health.
Melanie Amato, a spokeswoman for the department, said the state is "committed to an aggressive and comprehensive approach" to curbing the deaths, many coming after a person addicted to prescription pain pills turns to the street for drugs.
"We have seen 81 million fewer opioid doses dispensed to Ohio patients since the state took initiatives to curb abuse," she said. "We are continuing to crack down on drug trafficking, preventing youth drug use before it starts, encouraging appropriate use and availability of pain medications, saving lives by expanding availability of naloxone, and creating pathways to addiction treatment and recovery."
In Montgomery County, all unintentional overdose deaths totaled 181 for the first half of 2016, according to the coroner's office. If that trend continues, the year's total would far surpass that of 2015 and set a record for the number of overdose deaths.
Of the county's 259 accidental drug deaths last year, the coroner attributed 185 to opiates; through June of this year, 146 death certificates noted heroin or synthetic opioids.
Fentanyl -- and more recently carfentanil -- are extraordinarily potent synthetic opiates that officials blame for the ever-rising number of deaths. Carfentanil is a general anesthetic used on elephants and other large animals.
Jones-Kelley said the report's statistics came as no surprise.
"These are numbers that pretty much generated the initiatives that we've been attempting to introduce and expand over the last couple of years to address the epidemic," she said.
Beginning in September, Montgomery County brought together public health and elected officials, as well as treatment providers, law enforcement and the judiciary in a collaborative effort to fight the problem locally. The county also added $3.5 million to an already $10 million the county had expected to spend on fighting addiction programs this year.
The community will eventually see results from the plan promising to get users at risk of overdosing into treatment and steer others away from drugs altogether, Jones-Kelley said.
"I think it frustrates people when they can't see the real impact of all of the efforts and activities that are going on right now," she said. "It will show results. It will.
To Learn More:
Opioid Overdose Deaths (Kaiser Family Foundation)
At 8 Deaths a Day, Accidental Overdose Fatalities Hit Record High in Ohio (by Kantele Franko and Dan Sewell, Associated Press)
Push to Require Physician Use of National Pill-Tracking Database Designed to Curb Opioid Abuse (by Matthew Perrone, Associated Press)