Obama Sides with Saudi Royals against U.S. Families in 9/11 Lawsuit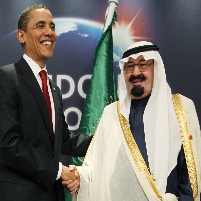 Barack Obama and Saudi King Abdullah, April 2, 2009 (AP Photo/Charles Dharapak)
The Obama administration has made clear where it stands between victims of Sept. 11 and the Saudi royal family, as the president prepares to meet with King Abdullah this week. Last Friday, the Justice Department filed a brief with the U.S. Supreme Court taking the position that the families of those who died on 9/11 cannot sue the family for allegedly helping to finance the terrorists—15 of whom were from Saudi Arabia—who attacked the World Trade Center and the Pentagon in 2001. Solicitor General Elena Kagan sided with a lower court decision that threw out the lawsuit on grounds that the Foreign Sovereign Immunity Act members of the royal family from liability in American courts because the Saudi royal family is synonymous with the.sovereign nation of Saudi Arabia.
Kristen Breitweiser, a leader of the Sept. 11 families, who lost her husband in the World Trade Center attacks, told the New York Times that the decision by the Obama administration was "reprehensible." She added: "One would have hoped that the Obama administration would have taken a different stance than the Bush administration, and you wonder what message this sends to victims of terrorism around the world."
The lawsuit, brought by insurance companies representing the victims and their families, was first filed in 2002 and originally asked for $116 trillion. The group now seeks $1 trillion in damages. In addition to pursuing the Saudi royal family, the plaintiffs have targeted international banks, Islamic foundations and charities, individual financiers, the Saudi bin Laden Group, three Saudi princes, and the government of Sudan, according to media reports.
-Noel Brinkerhoff