Obama Bans Oil Drilling in Alaskan Bay that Produces 40% of Wild-Caught Seafood in U.S.
Friday, December 19, 2014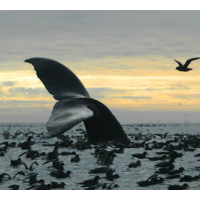 Humpback whale in Bristol Bay (photo: U.S. Dept. of Interior)
President Barack Obama has taken the popular step—with environmentalists at least—of banning oil drilling in Alaska's scenic and fish-heavy Bristol Bay.
Obama's executive move protects a region that provides 40% of the nation's wild-caught seafood and which supports up to $2 billion in commercial fishing every year. Bristol Bay is the natural habitat for numerous endangered species, including walruses, seals, sea otters, seals, and several species of whales.
"It's something that's too precious for us just to be putting out to the highest bidder," Obama said in announcing his decision.
Environmental groups lauded the move.
"The administration's decision to protect Bristol Bay is a huge win for both Bristol Bay fishermen and the region's coastal communities," Margaret Williams, managing director of the World Wildlife Fund's Arctic Program, told the Wall Street Journal.
Currently, there are no oil or gas drilling operations in the bay or near it.
The industry tried to open it up to natural resource leasing in the 1980s, but lawsuits tied up the effort. Thereafter, the 1989 Exxon Valdez oil spill ruined any chance of companies developing the region. In 2010, Obama ordered the Department of the Interior to reverse plans that had been made by the George W. Bush administration to allow leases in area.
-Noel Brinkerhoff
To Learn More:
5 Things You Need to Know About Alaska's Bristol Bay (by Tanya Somanader, White House Blog)
Obama Blocks Oil and Natural Gas Drilling in Alaska's Bristol Bay (by Amy Harder, Wall Street Journal)